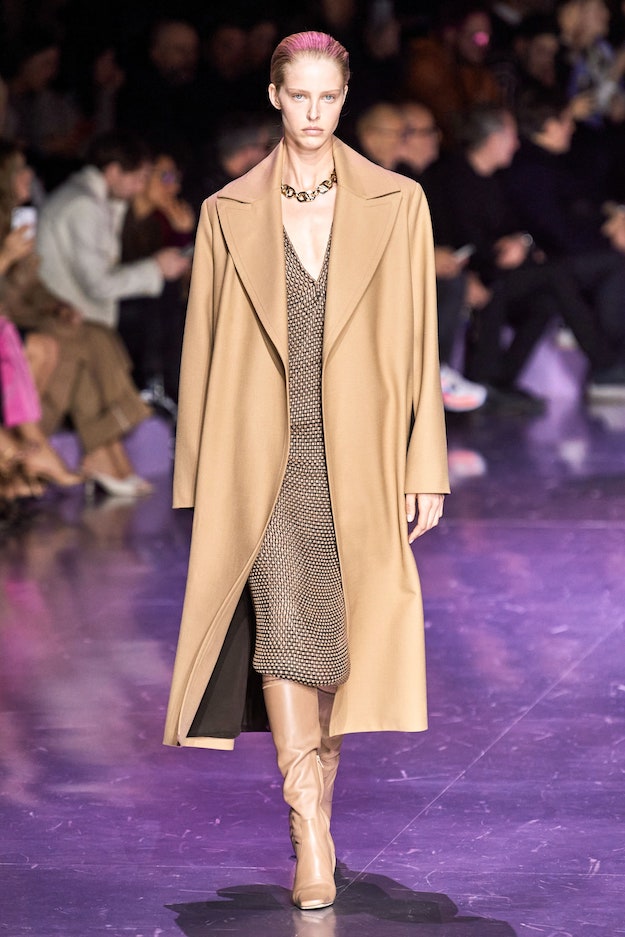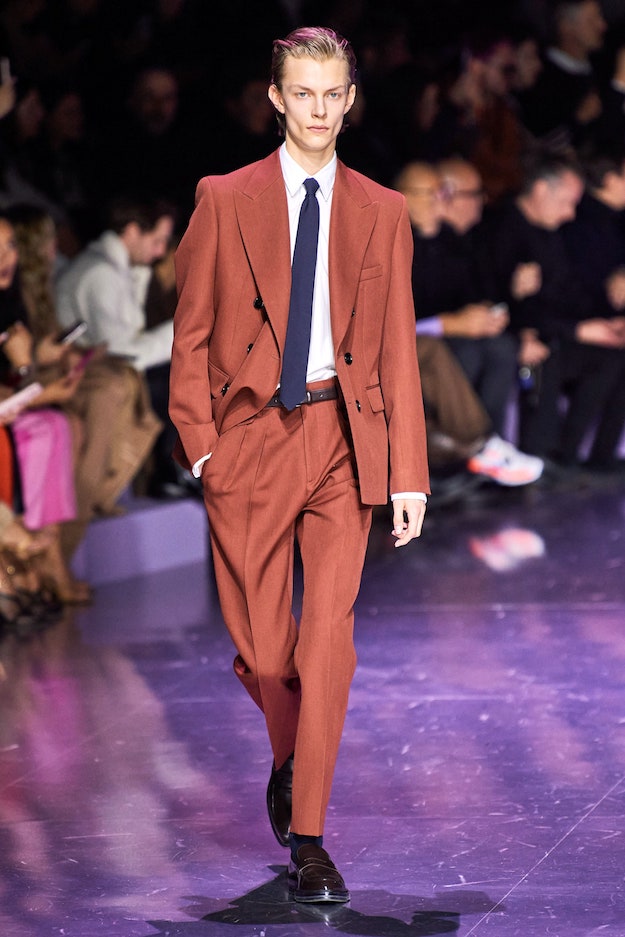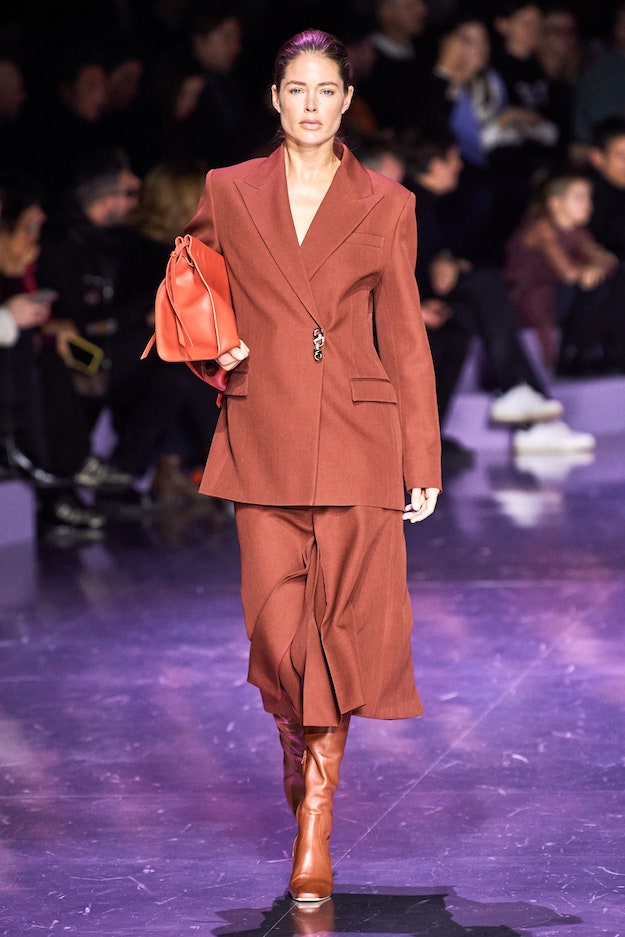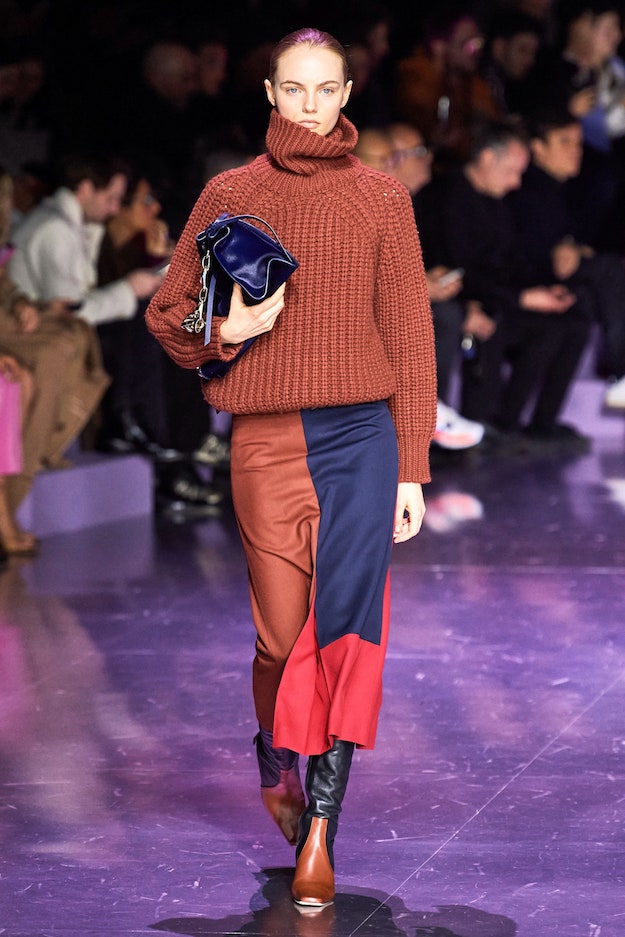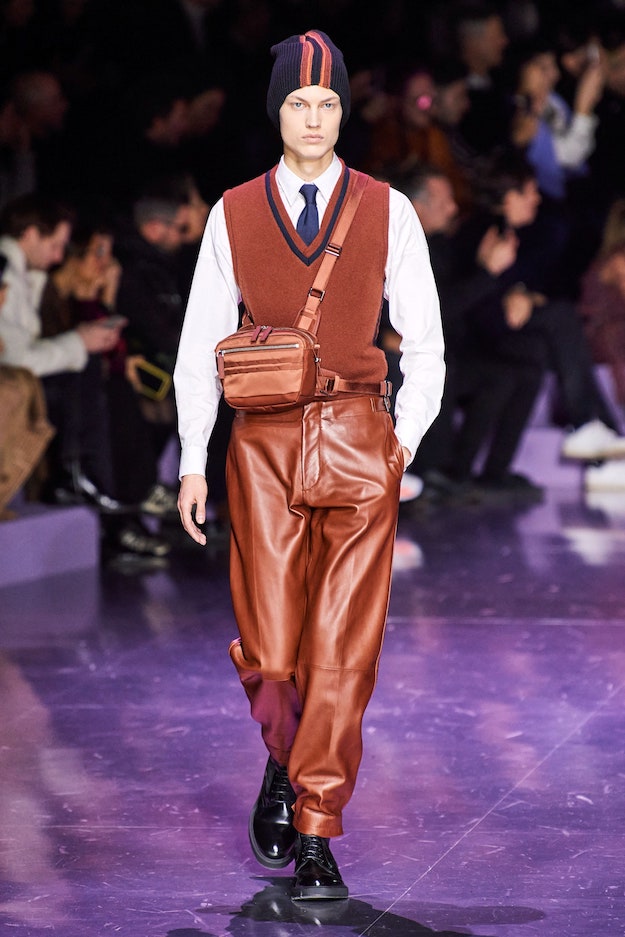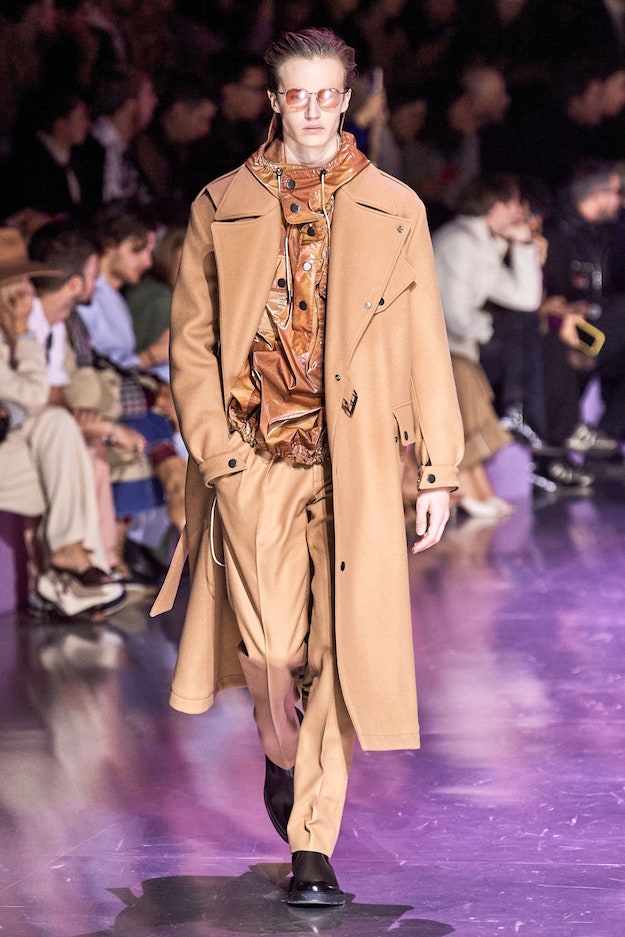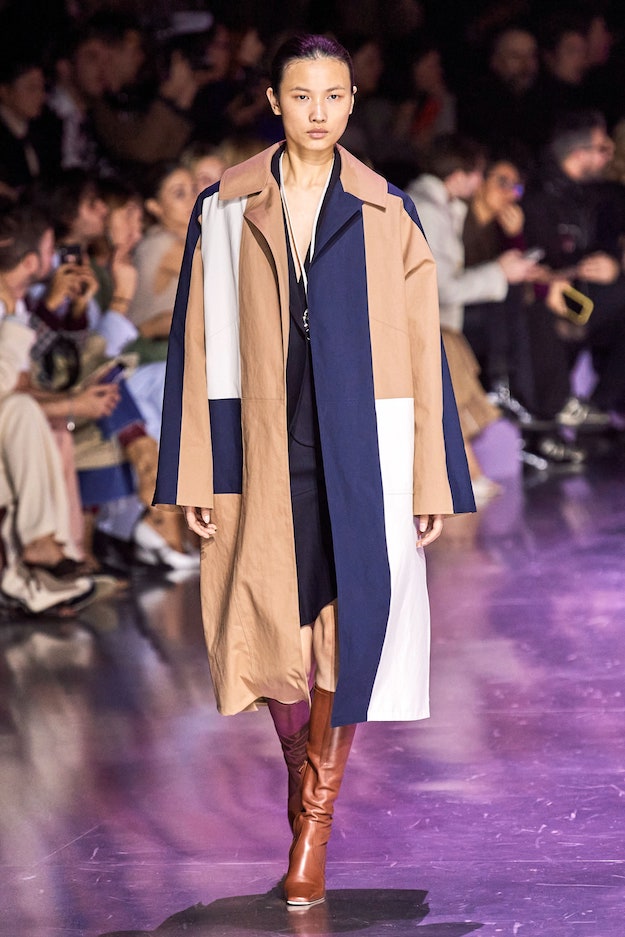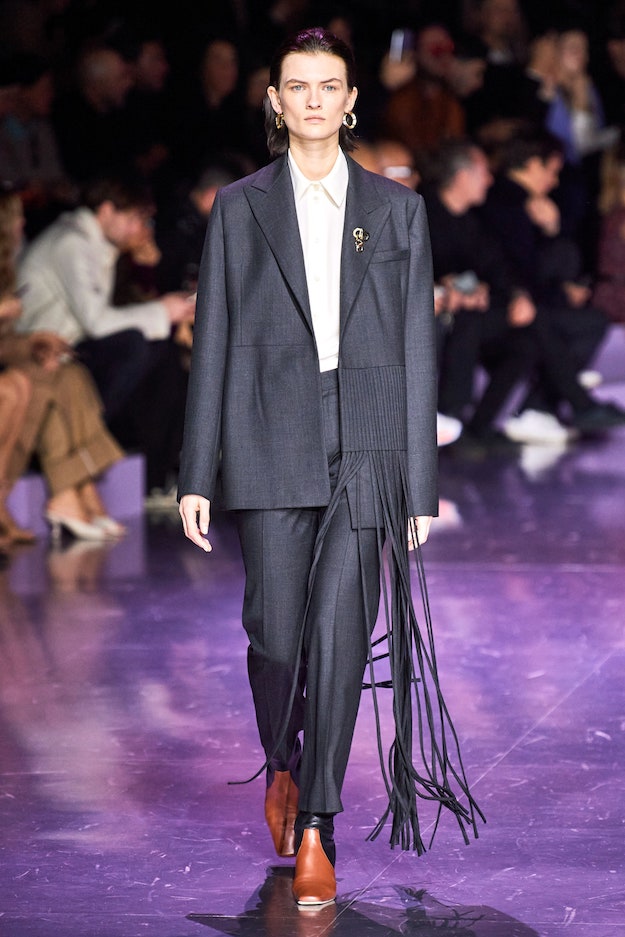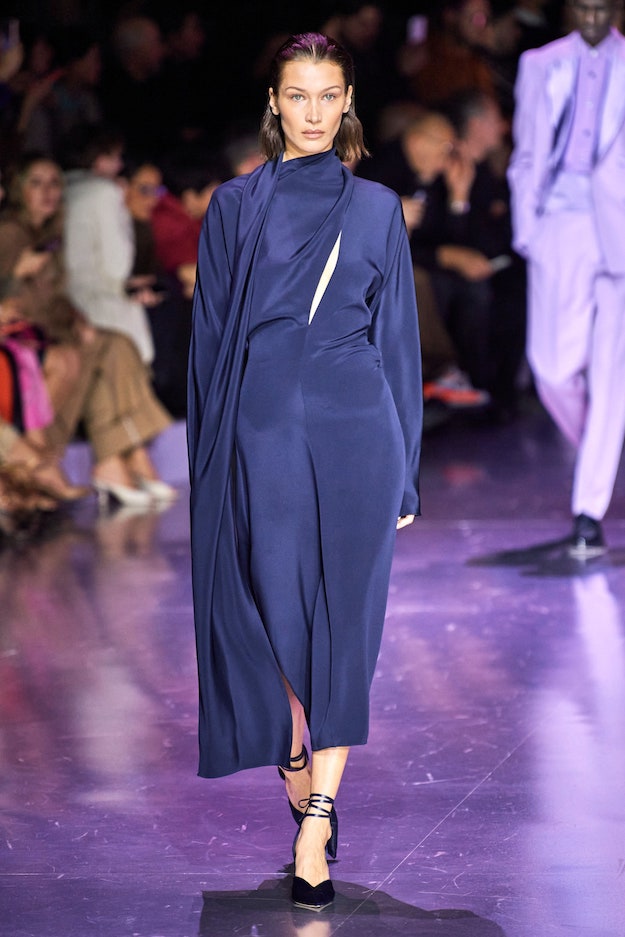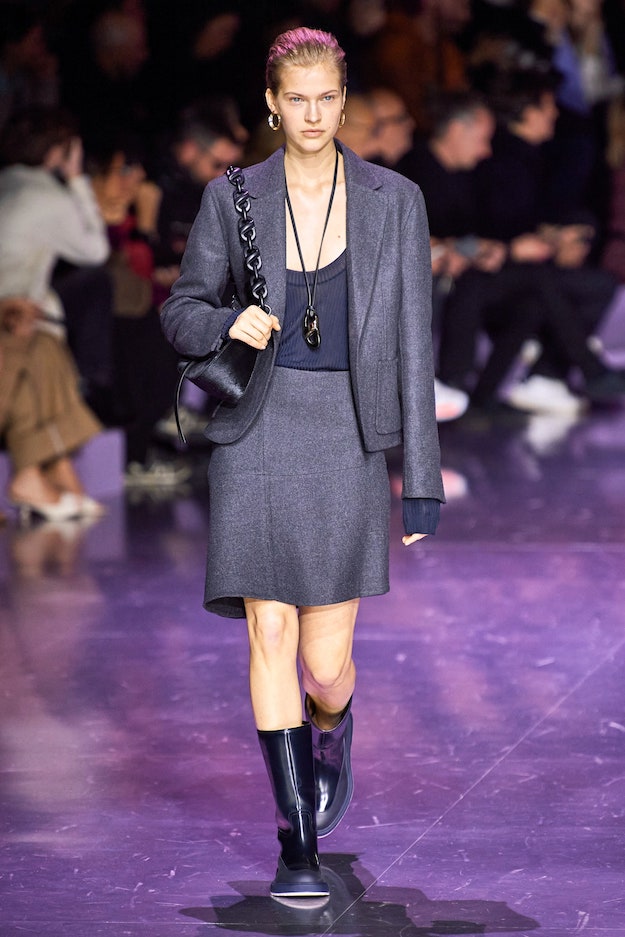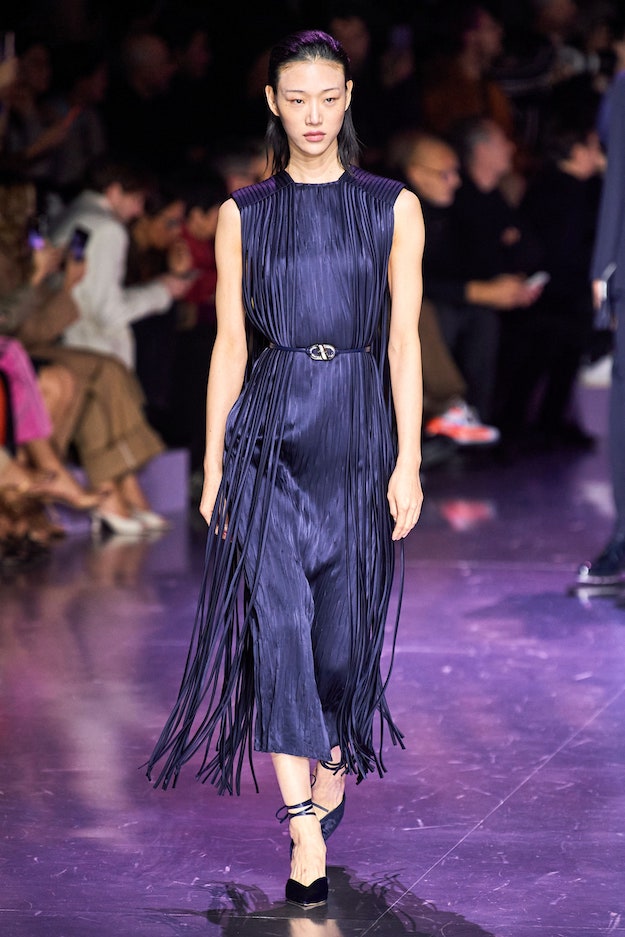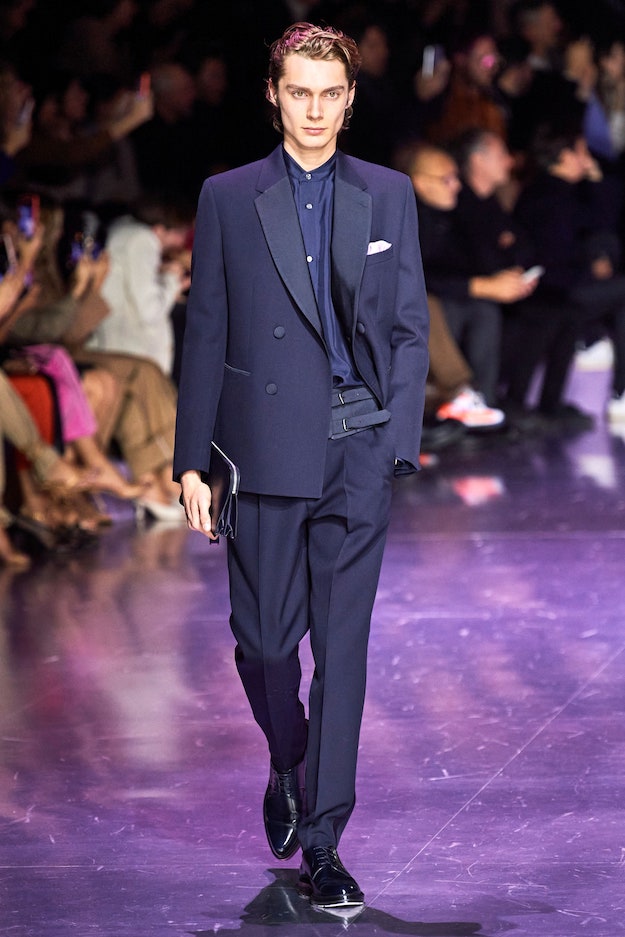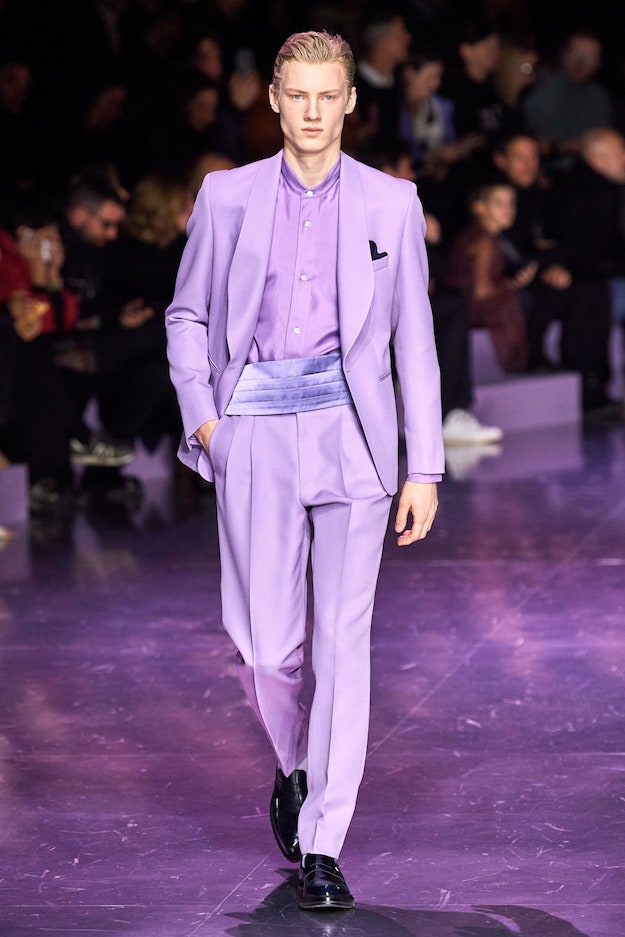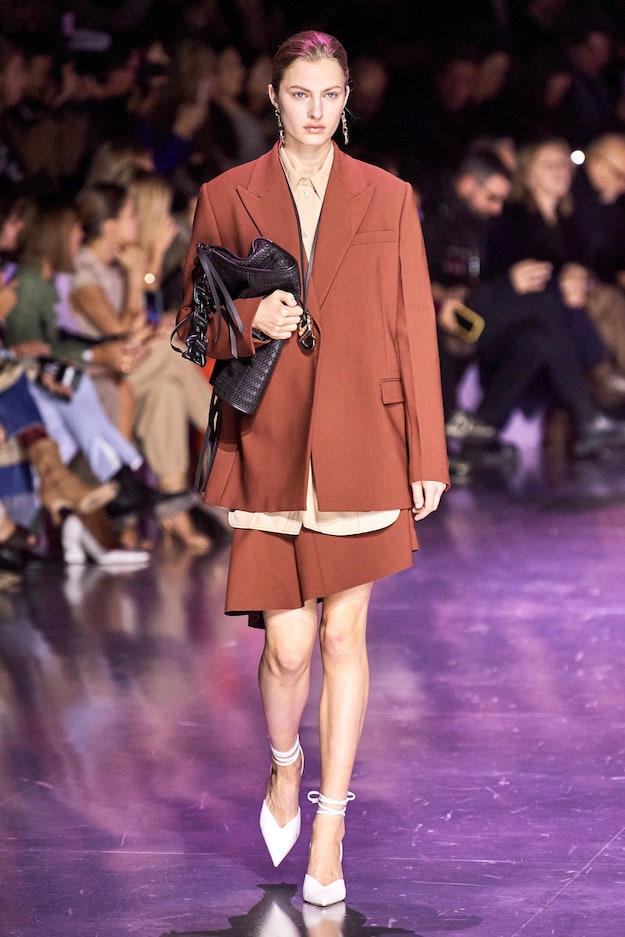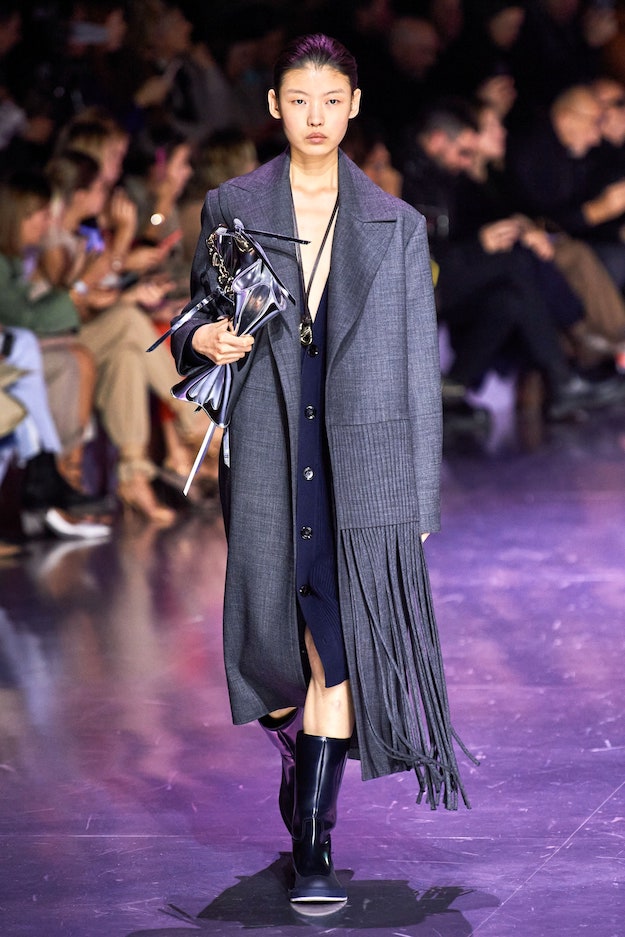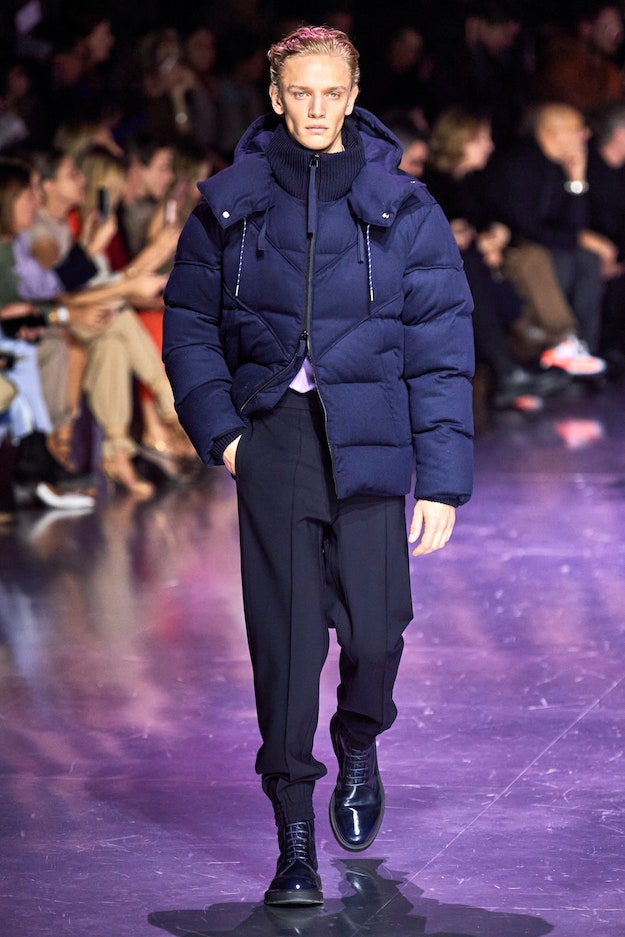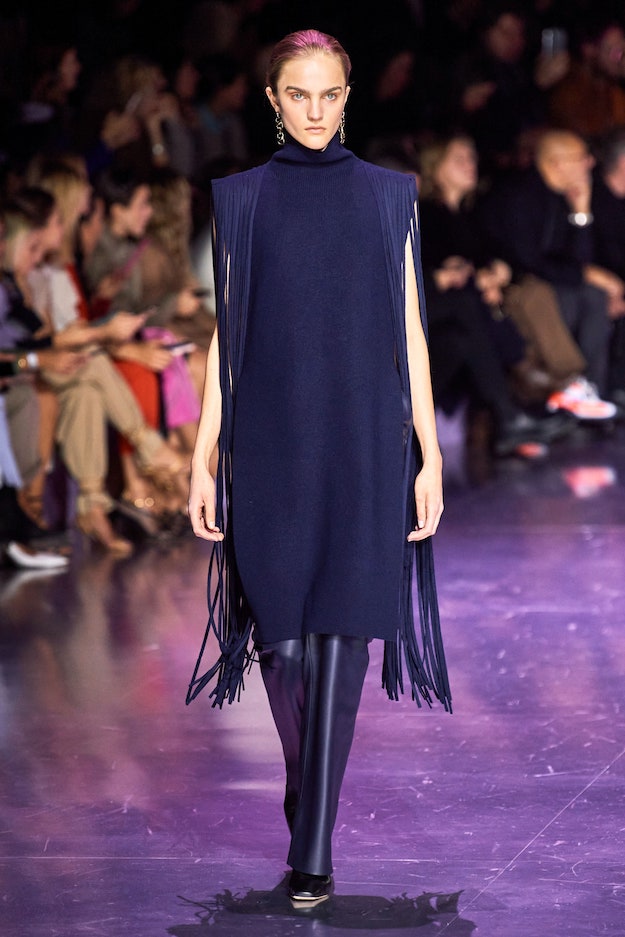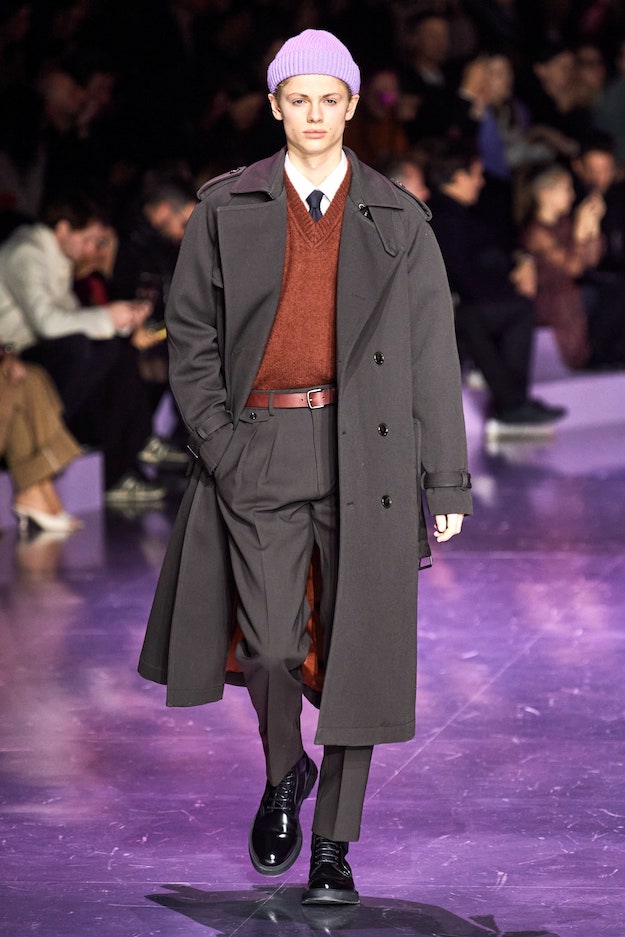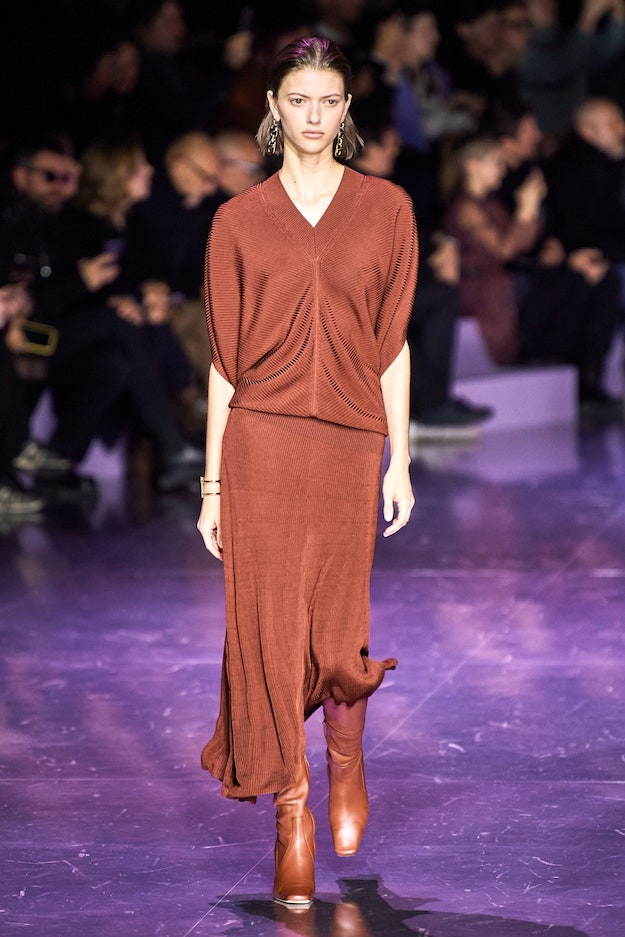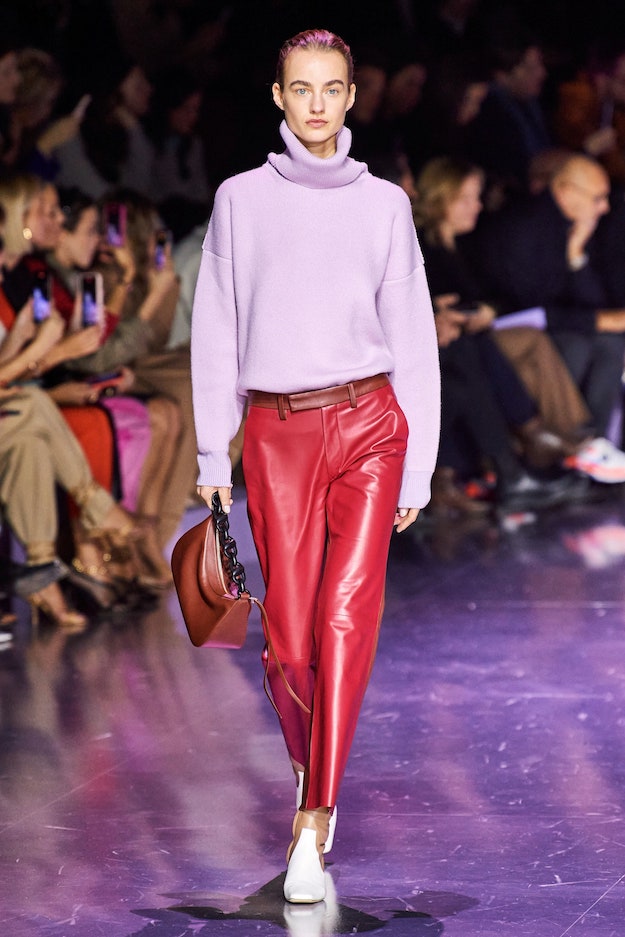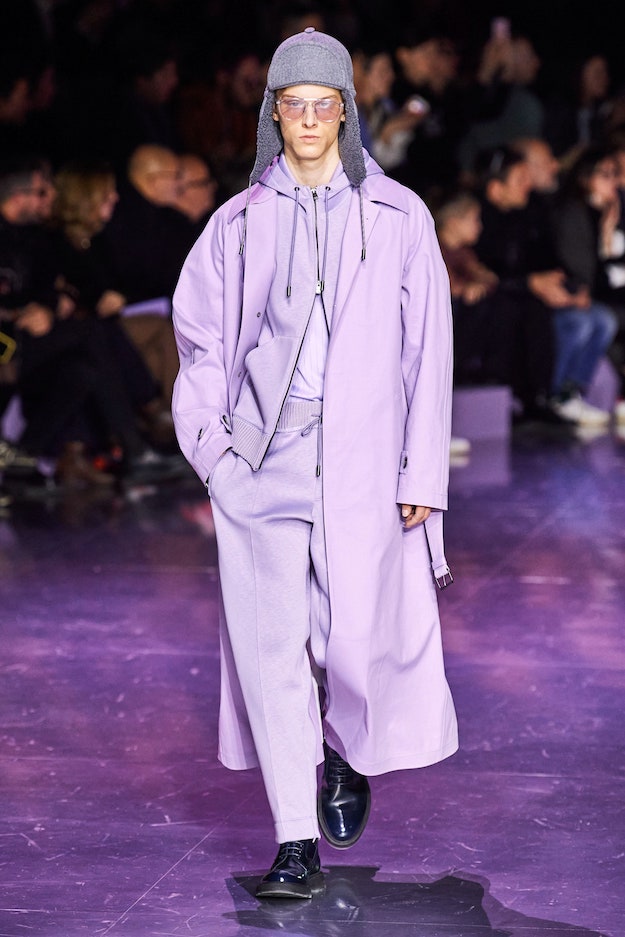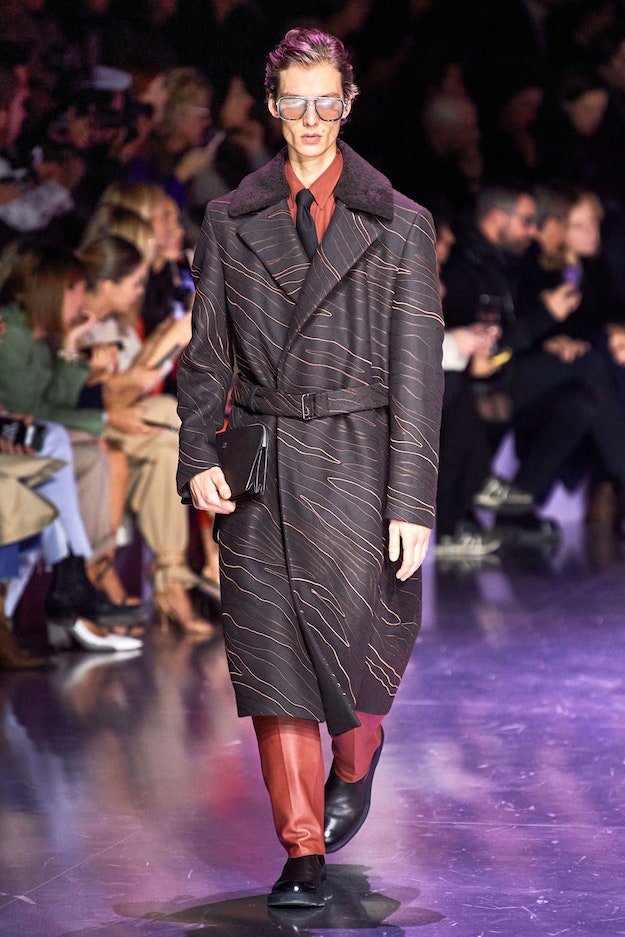 Miuccia x Raf forever. The coronavirus. Gucci's meta-fashion kaleidoscope. This Milan has featured some pretty significant talking points, but surely none is trickier to untangle than the sudden profusion of fringe. With all respect to Mr. Armani, this phenomenon is proof that trends do exist: where fringing was at the very edge of the heat map of decorative techniques last season, this time round it is at the very center. It wasn't only Prada and Bottega Veneta that went big with fringing either: whether carwash-wide, or bullion, or tassel, we saw it at Dolce, Philosophy, Ports, various others, and most definitely here at Boss. Expect a fair few more fringey fashion shows to come in Paris.
But how did this outbreak of ostentatiously fringed edging occur? The only explanation can be that there's a secret designer illuminati WhatsApp chat group in which this season everyone agreed to go big on bangs. Boss designer Ingo Wilts could neither confirm nor deny his membership following today's entertaining show as he was otherwise engaged fielding the enthusiastic congratulations of guests including the label's new eyewear celebrity representative Orlando Bloom. Those congratulations were totally merited for a collection that featured not only fringed but also plenty of unfringed minimal finery for both men and women. The set was lilac and centered around a 25-ish piece orchestra who played an energetic composition by Henri Scars Struck.
Around them walked a collection that shifted in waves of color; russet to lilac to beige to black before a russet return, a cream aside, a charcoal/navy chorus and a lilac climax. Within this colorscape came various groupings. Boss is a tailoring and outerwear house at its core and the examples here were the beating heart of many of its rivals: outstanding examples included the wide and peak-lapelled caramel coat featuring a vertical line of red on the spine worn by Irina Shayk, the single-button double-breasted russet jacket and box-pleat skirt on Doutzen Kroes and the raised-shoulder jacket for men. The men's greatcoats were unsurprisingly authoritative.
Whether in leather, cashmere or wool the garments at the scene changes in Wilts' color-story were often patched in irregular cubes and rectangles of color as a form of static to mark the transition. There was also an irregular outlined-striping pattern marked at first on accessories in piping that gradually came to the fore, sometimes filled in with tufting, on knits and coats. Sportswear-inspired pieces included fishtail parkas and sectioned leather pullovers. Around all this shivered that fringing on document cases, scarfs, handbags, dresses, overcoats and more. It was a strong Boss collection that will prove central in the great fringe conspiracy theory of Autumn Winter 2020.
(Vogue.com)