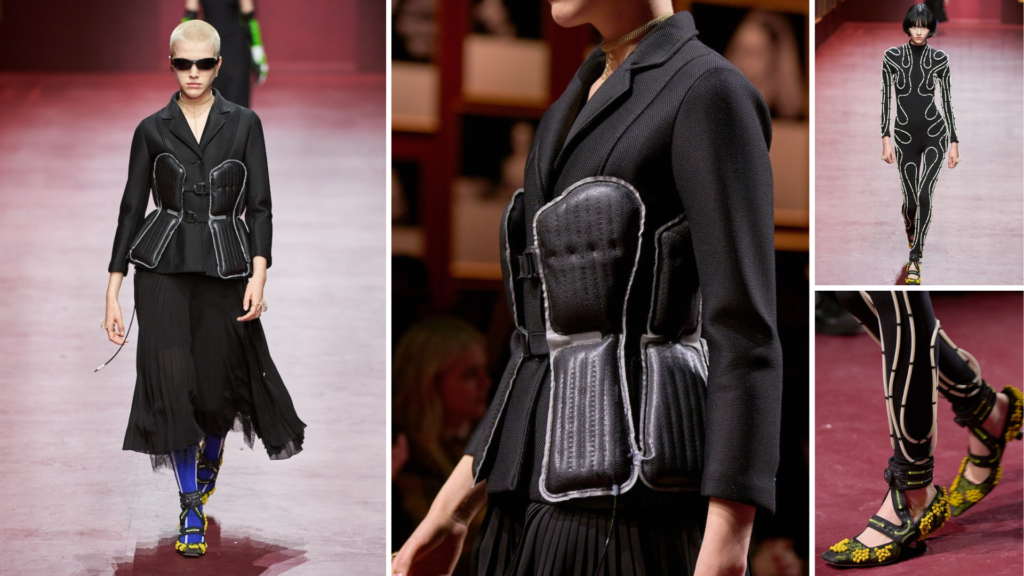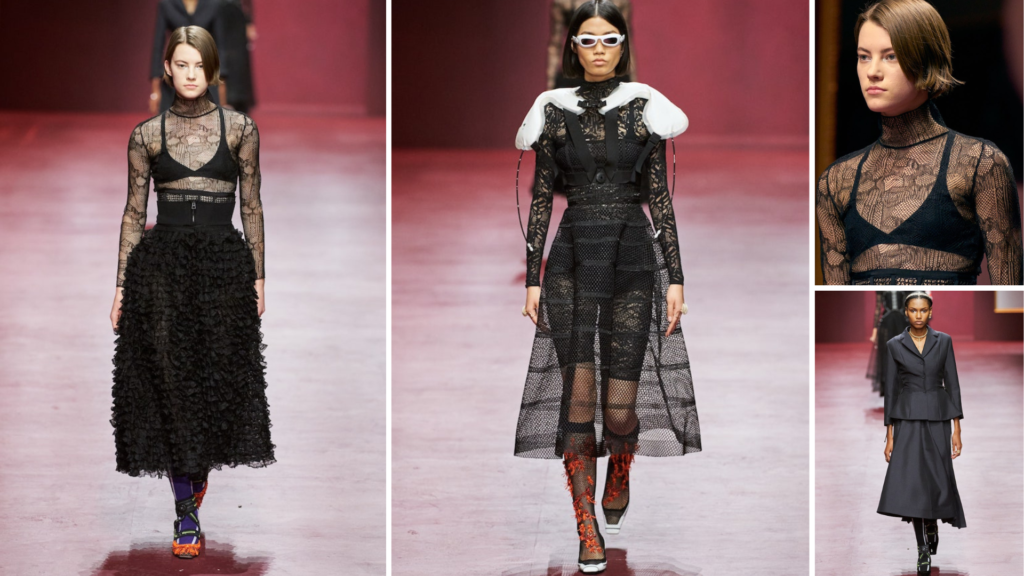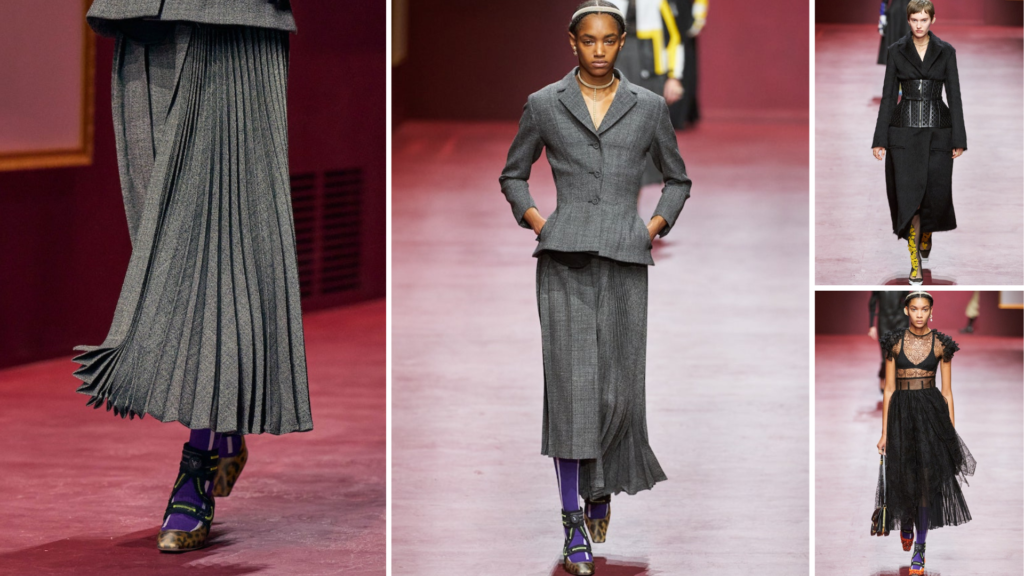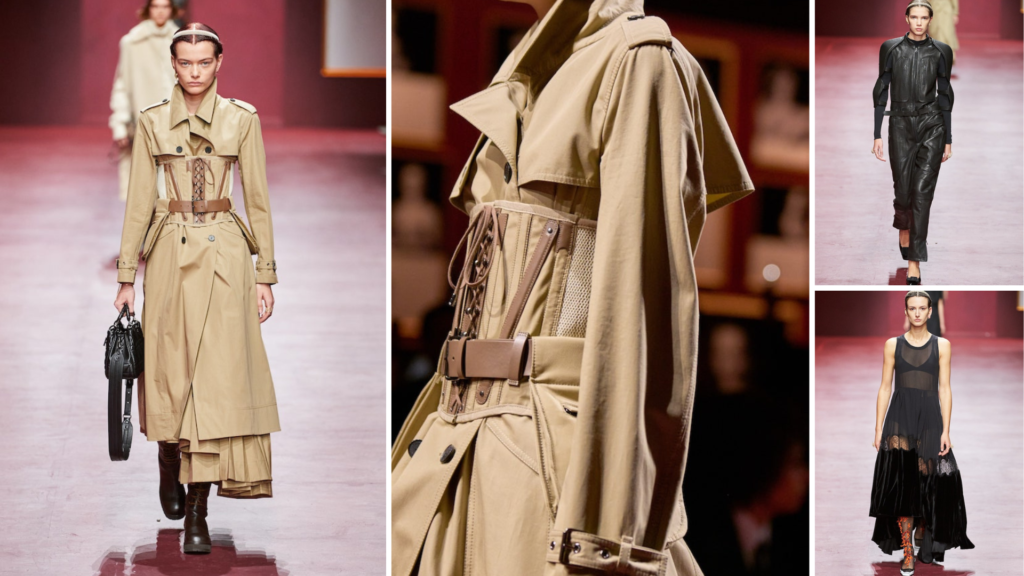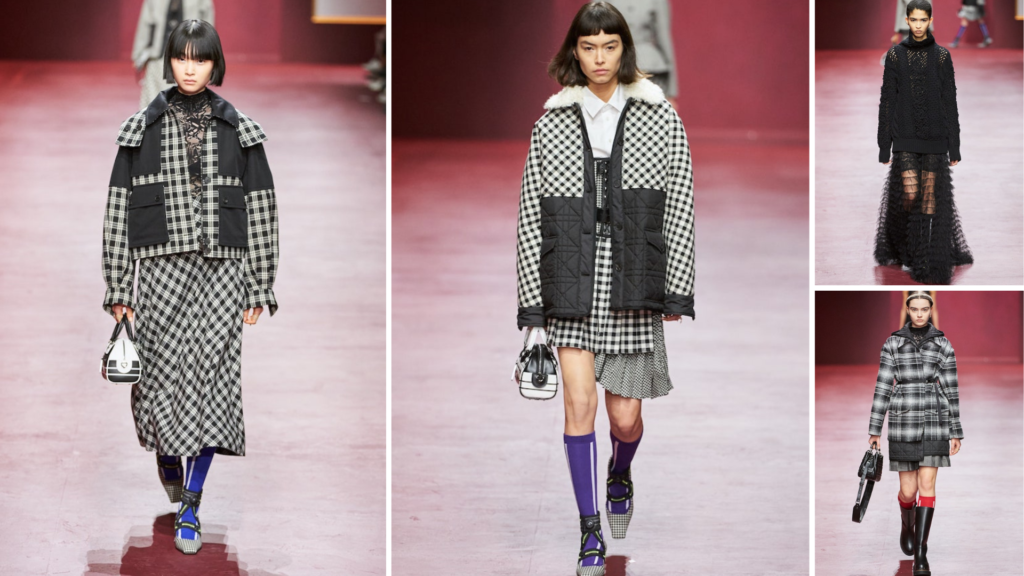 A wired woman walked out first at the Dior show, her bodysuit outlined in light-up-in-the-dark fluorescent green. The walls of the set featured images of women with two sets of eyes. The atmosphere radiated an equivalent of the double-consciousness of an audience looking at fashion while anxiously checking its phones for news of the war in Ukraine.
That tension was the unintended consequence of the toxic twist of timing. The images of protection and hinted-at derivatives of armor which immediately surfaced to the naked eye in the collection cannot have had anything directly to do with how Maria Grazia Chiuri had planned out the spirit and execution of her fall show months ago. But still: this collection was her most daring bid yet to engage Christian Dior—and its Bar jacket, corset and New Look swirly midi—with advancing modernity and technology. With a side-nod to Dune, and, of course, Chiuri's underpinning framework of female empowerment, courtesy of her relationships with feminist artists.
"We have this idea that technology is something just a little bit unreal," Chiuri contended before the show. "We use technology more for communication, and think less about how it can help us to live better. We are used to expecting it in very practical things: washing machines, but not fashion."
Look 2 in the show was an inside-out demo of how a Bar jacket (with the form of its traditional 1950s inner padding exposed) had the potential to become a 2022 climate-sensitive garment. Cool when the wearer feels hot, and vice versa. This, and other pieces in the show (in which the technology was not so obvious) were the result of a collaboration with D-Air Lab, a technical specialist Italian company which makes safe, functional clothing and materials for sports, industrial and other non-fashion purposes.
Chiuri liked the challenge of finding co-habiting synergies between Dior's sober gray suiting and feminine chiffon dresses and technical biker jackets, football shoulder pads and protective racing gloves. That went right down to the shoes—Roger Vivier's original '50s Louis heels for Dior, but with technical "anti-twist" ankle straps, and vividly collaged beading.
What came over best was some amazing knitwear—again due to new Italian industrial technology. Light years from a cozy sweater, a beautifully fine cobwebby lace bodice on a fluffy tiered skirt was entirely knitted by computerized machine. Ditto the delicate sunray pleats of another midi dress, where the intersecting strands made the skirt swirl transparently in the light. There were passages of skirt suits with asymmetric hems, substantial daywear with checked tweeds and dissected trenches to add to all this, followed up with diaphanous chiffon for evening.
The environmental ambience was created by the Italian feminist artist Mariella Bettineschi, who reimagines the objectified female subjects of "Old Masters" as women and girls with their own agency and ability to perceive things outside of patriarchy and colonialism. Chiuri transferred the appellation of the artist's work "The Next Era" to her own collection, with the artist's permission.
The artistic concept symbolically looks forward to a time when women will take over the running of the world and do it in a better way. Against a background of aggression by a murderous megalomaniacal male-run state, that hope looks more poignant—yet more vital—than ever.
|| Vogue.com ||