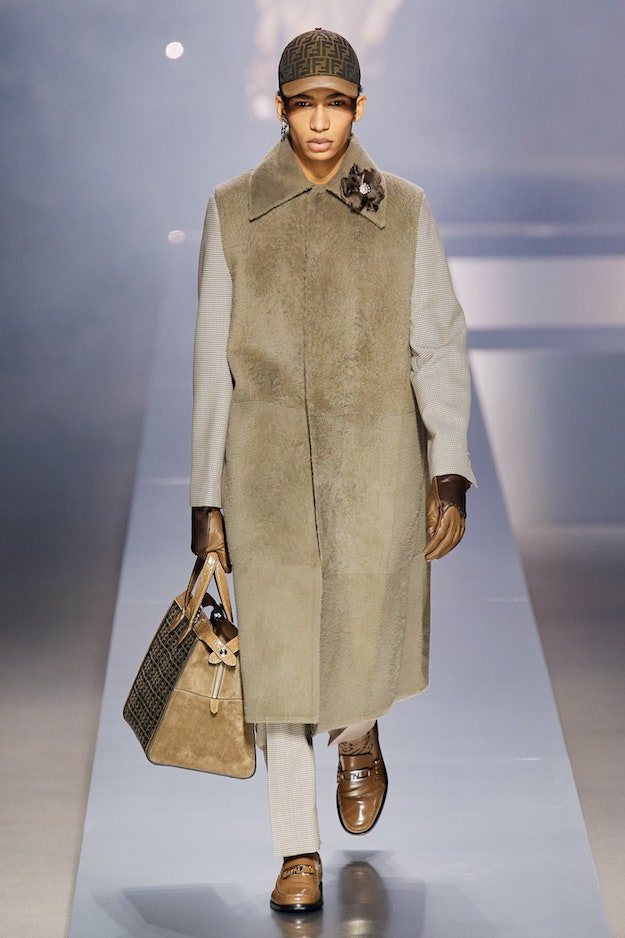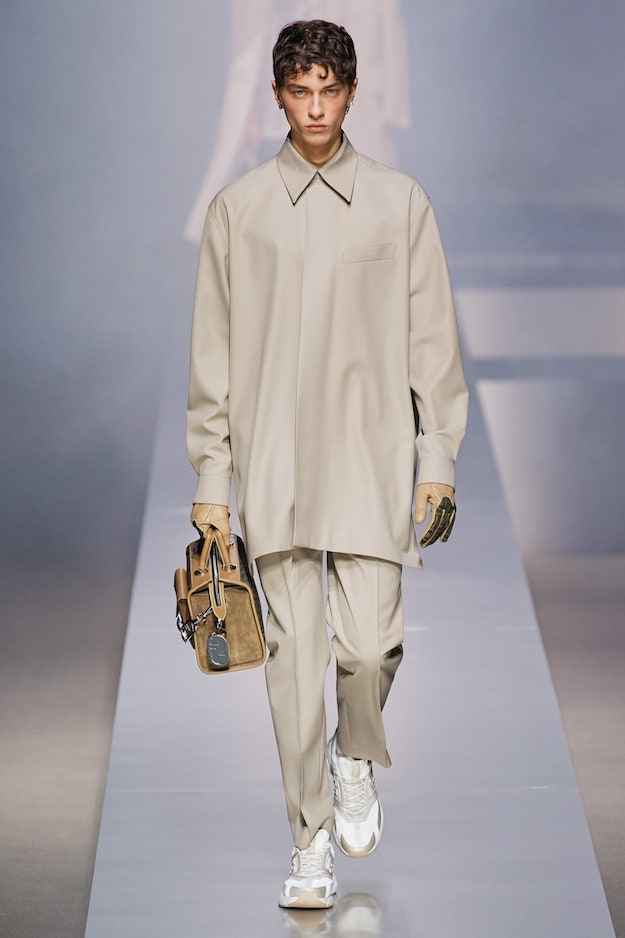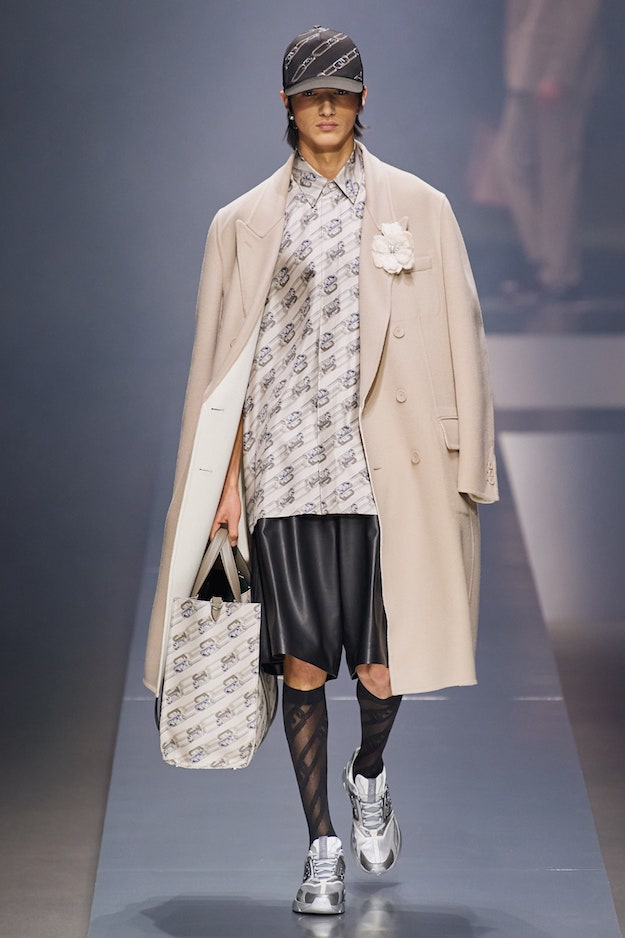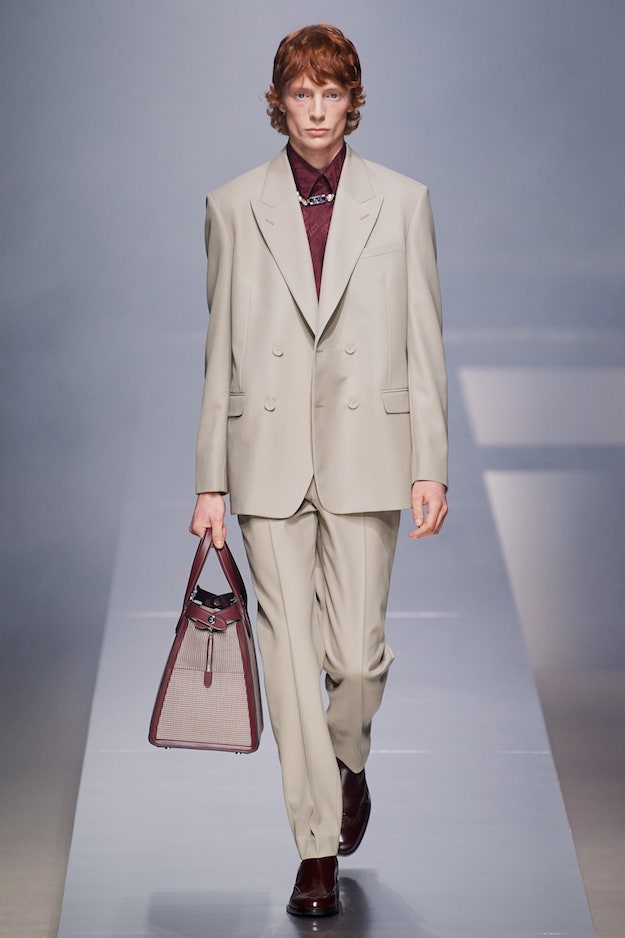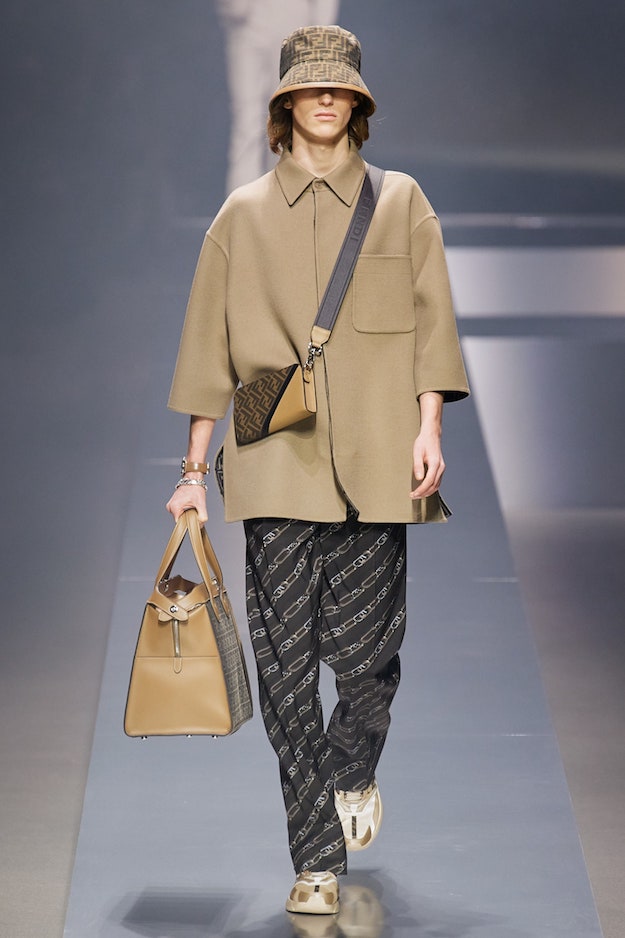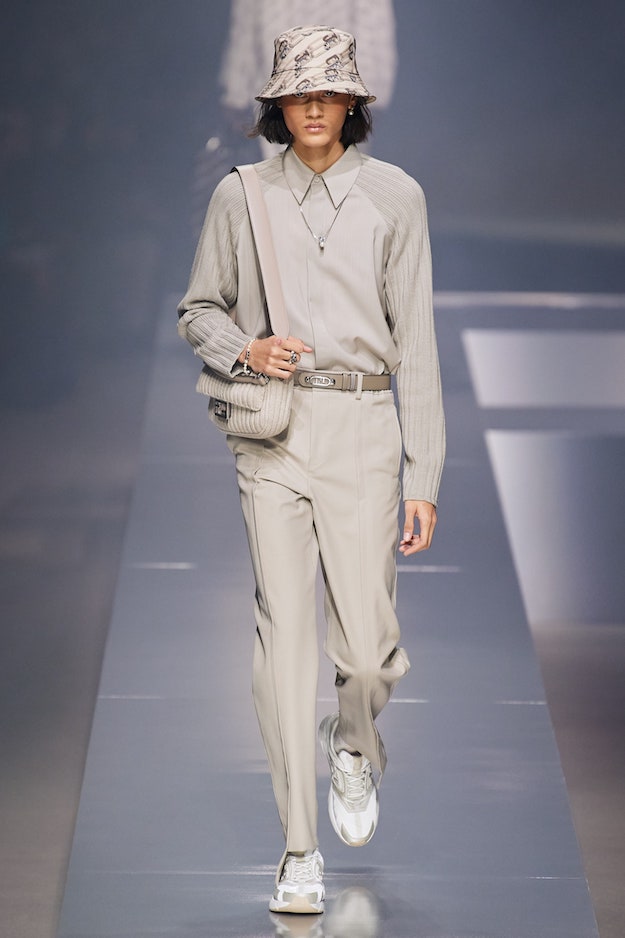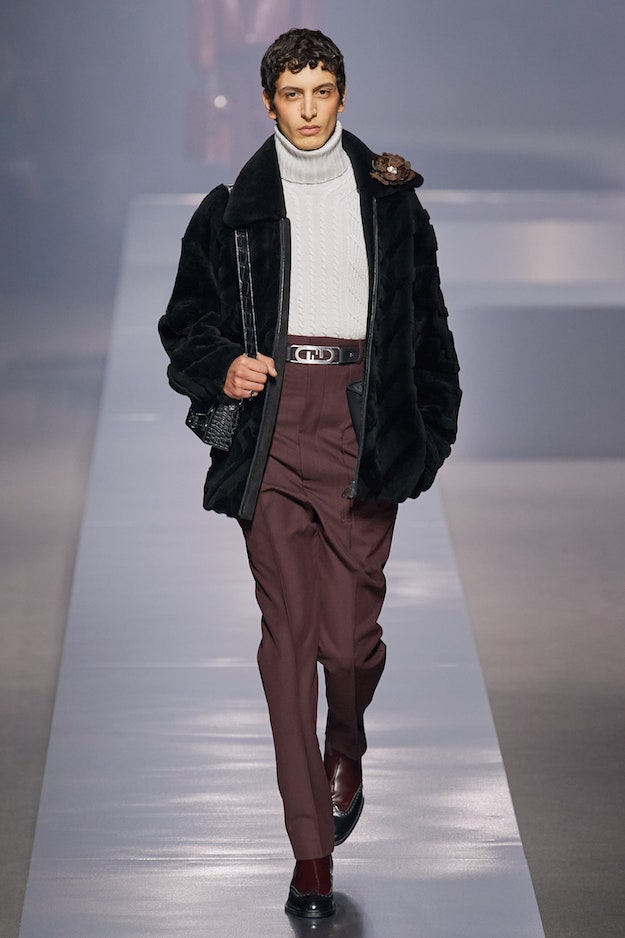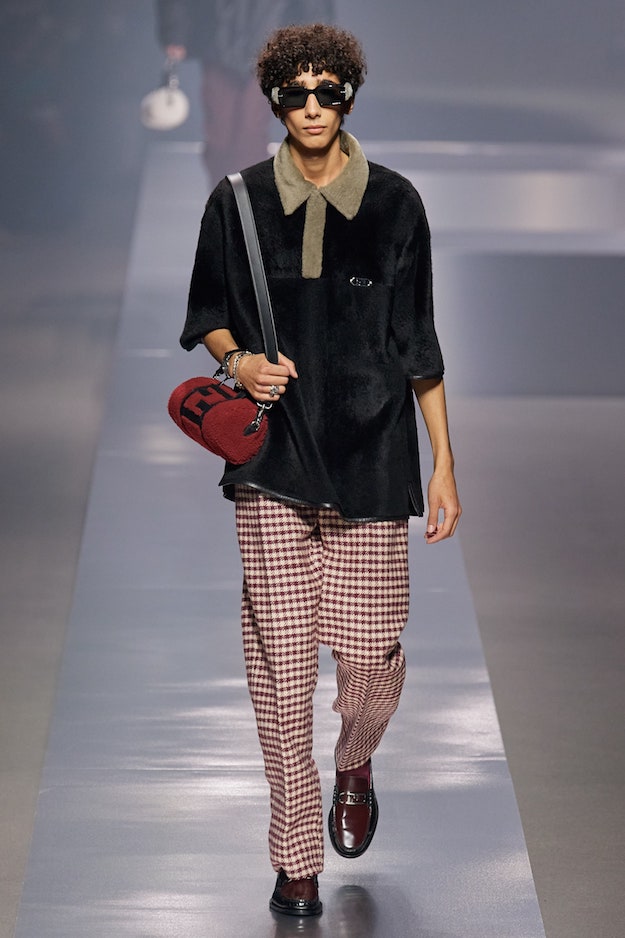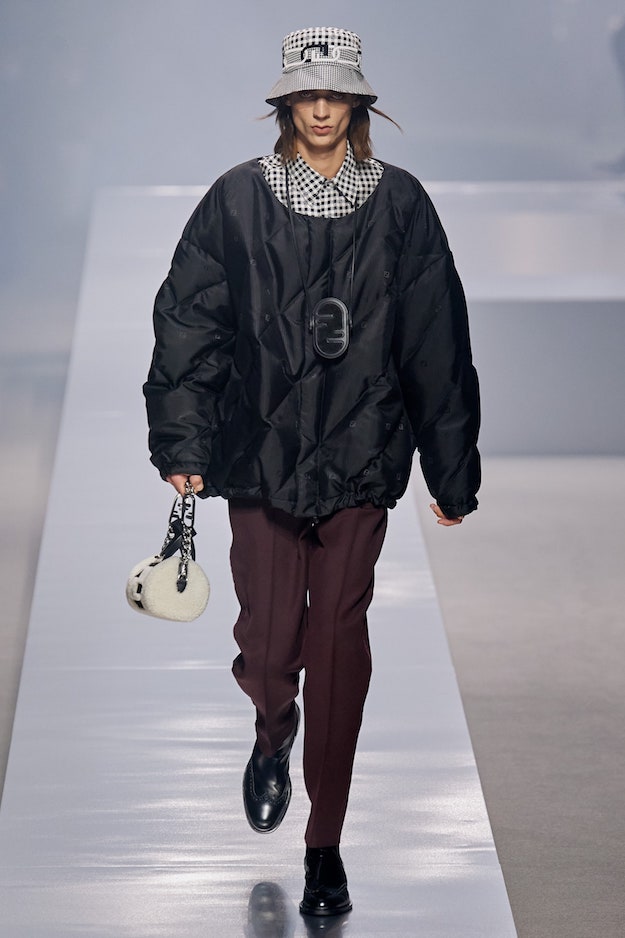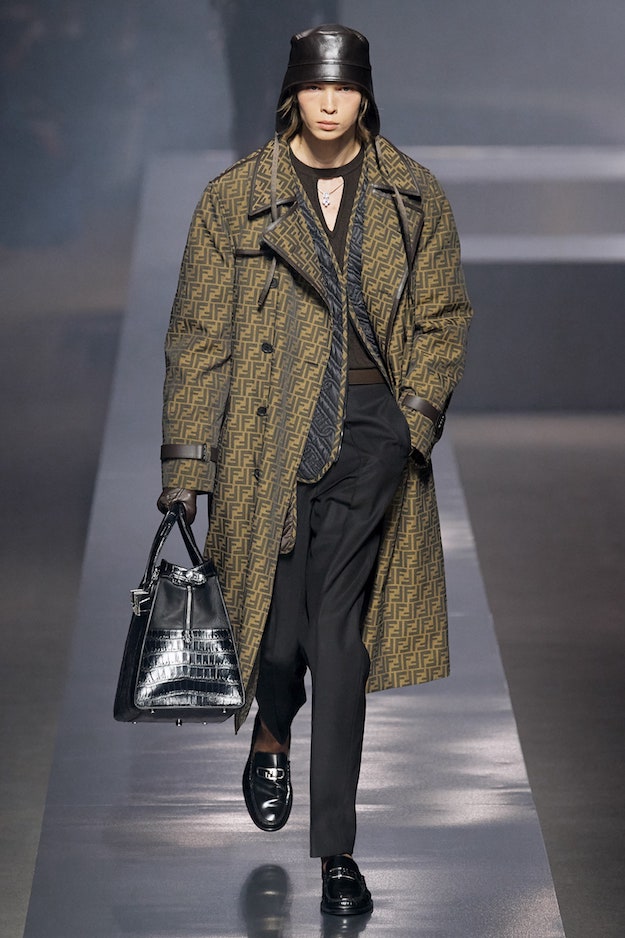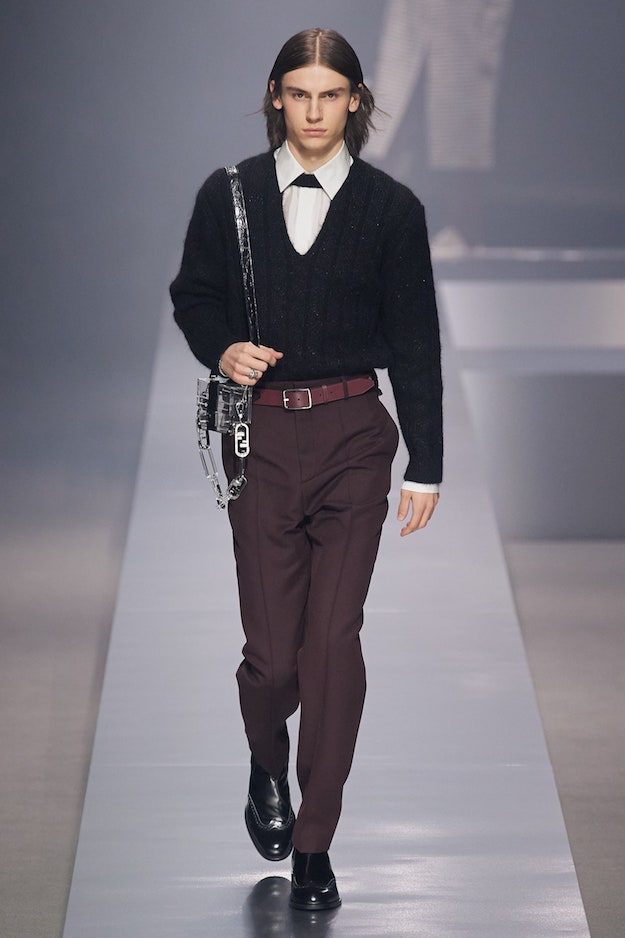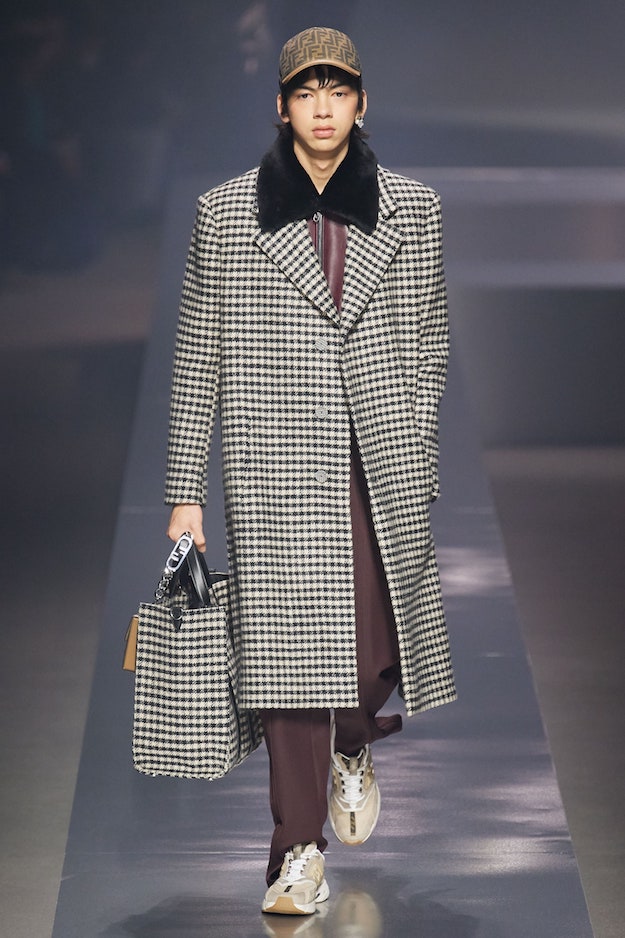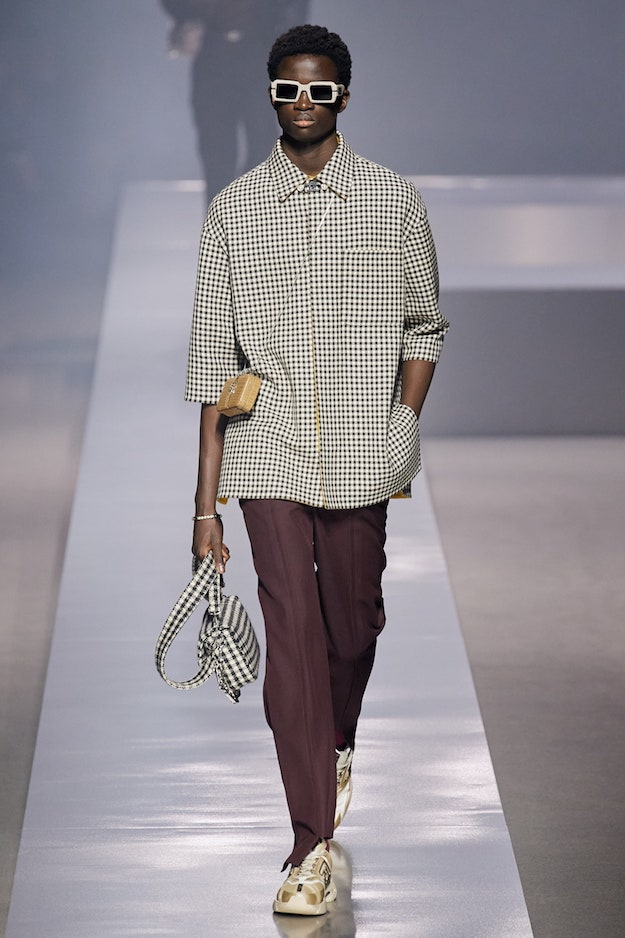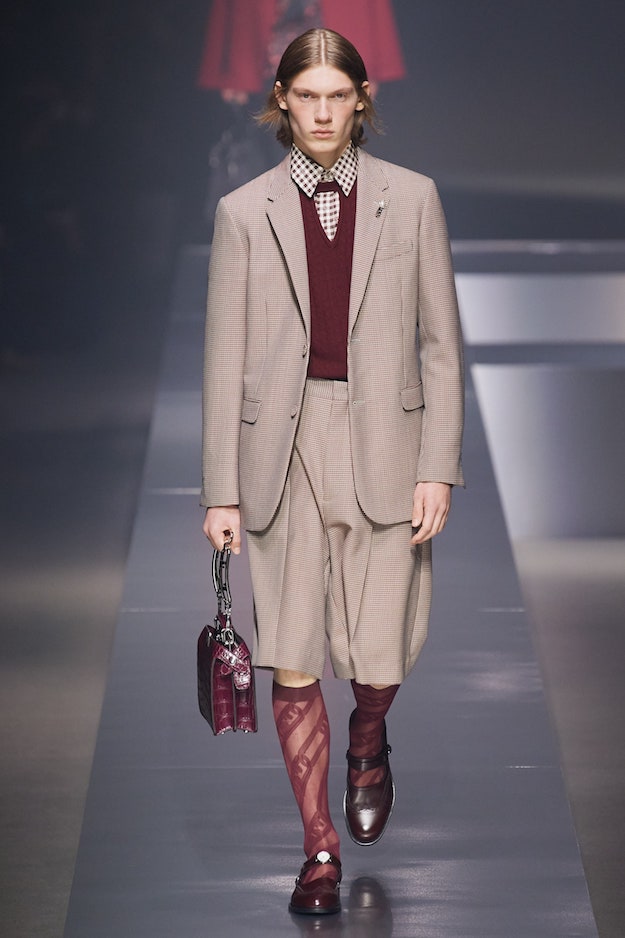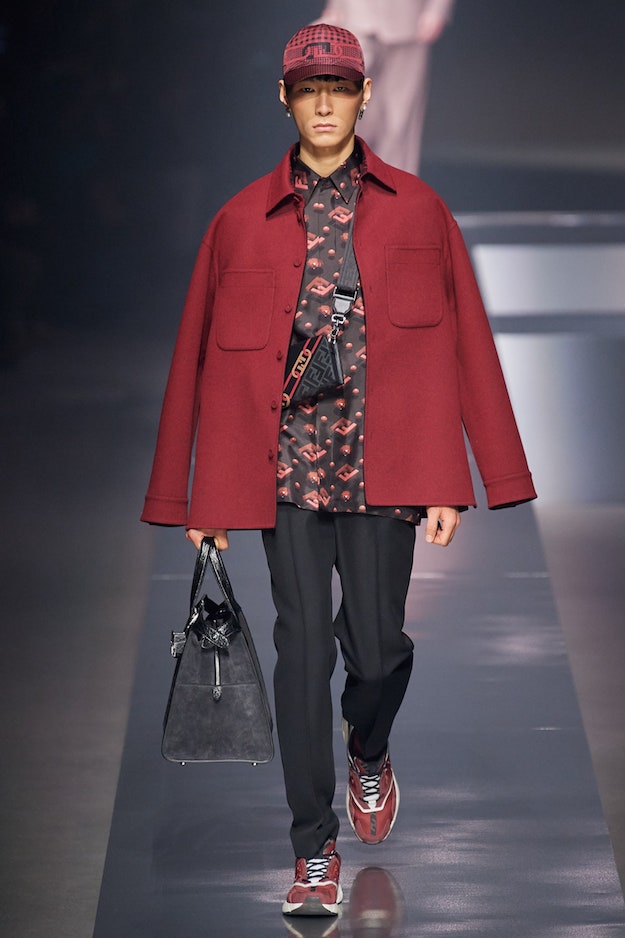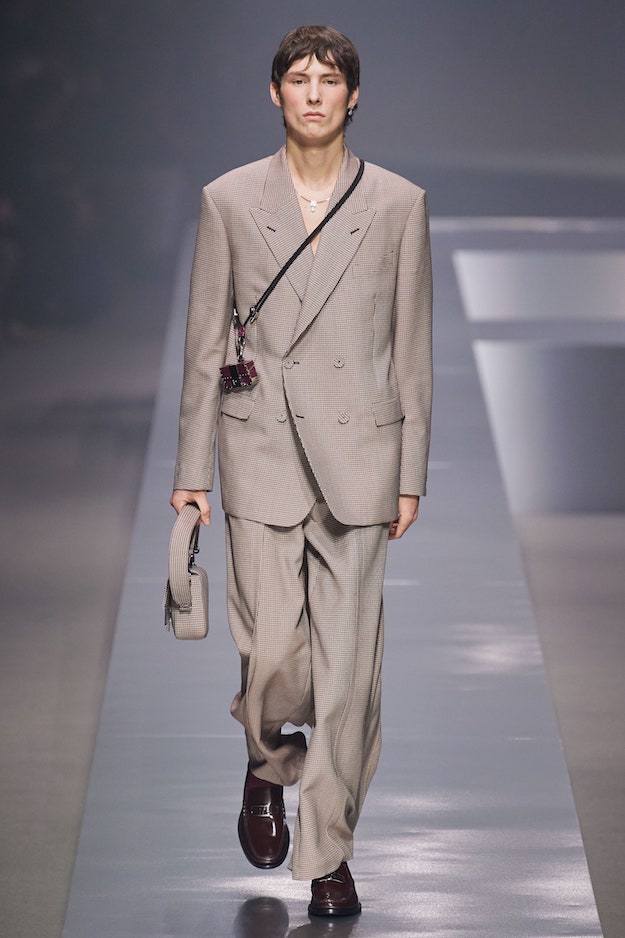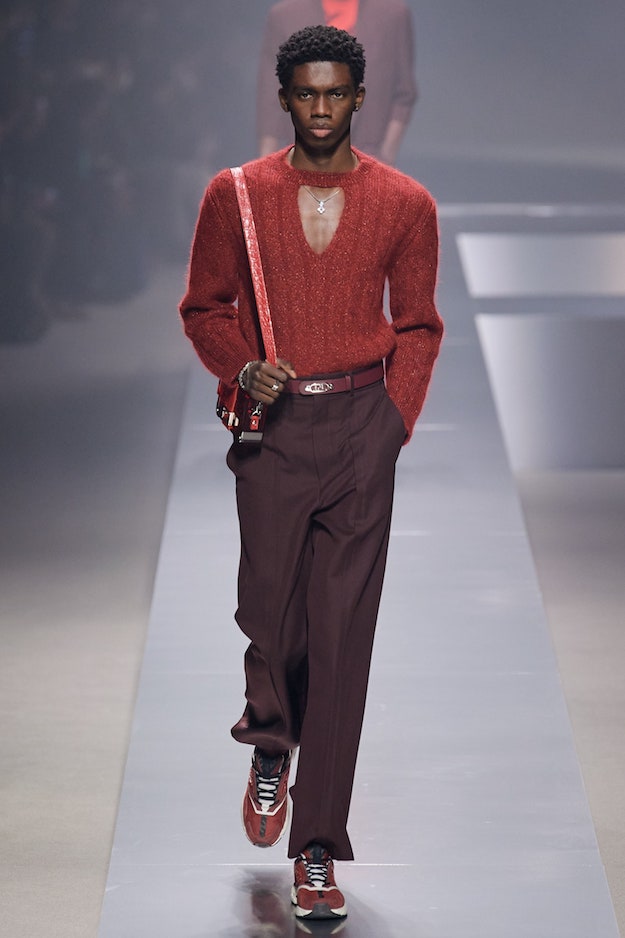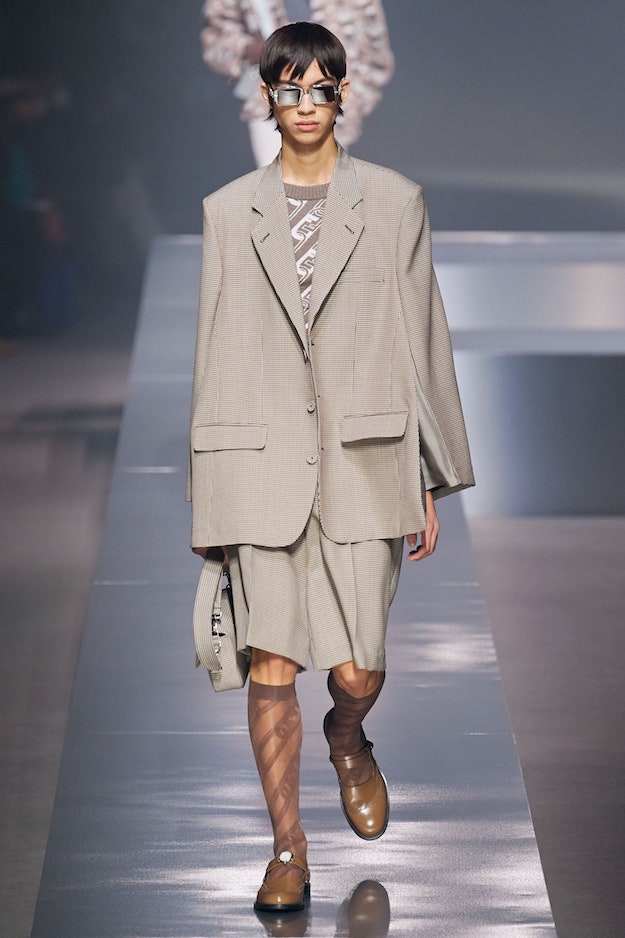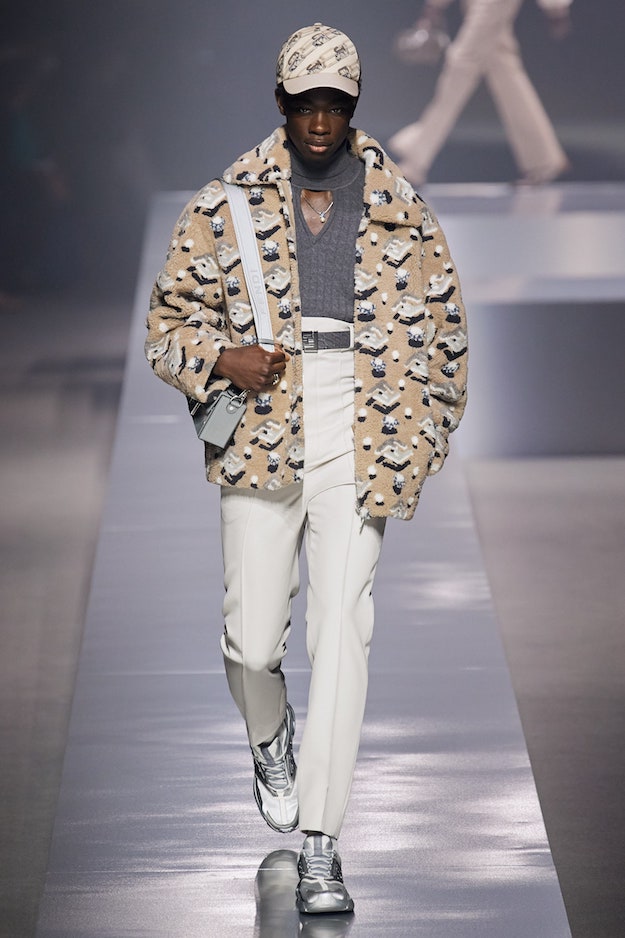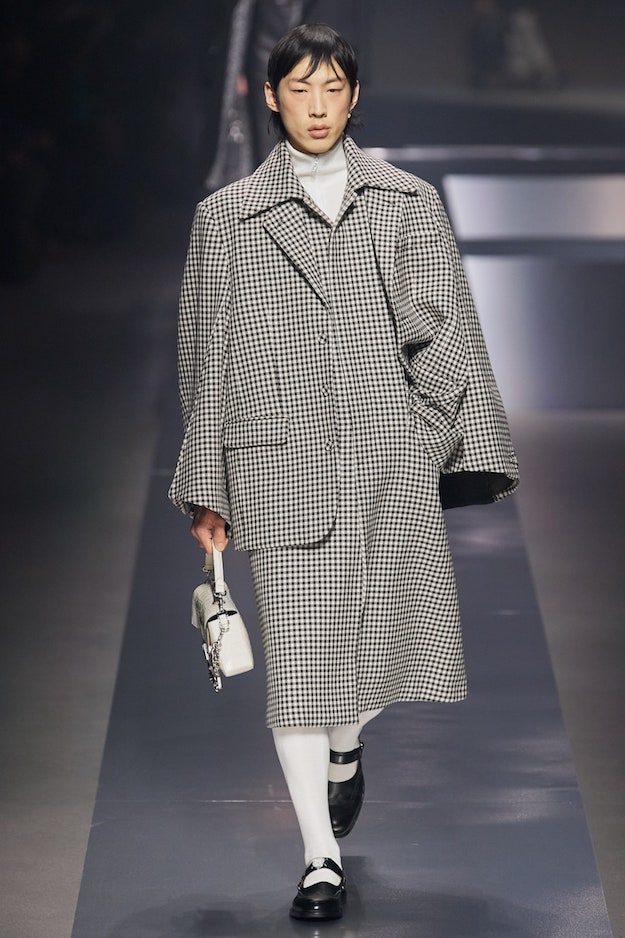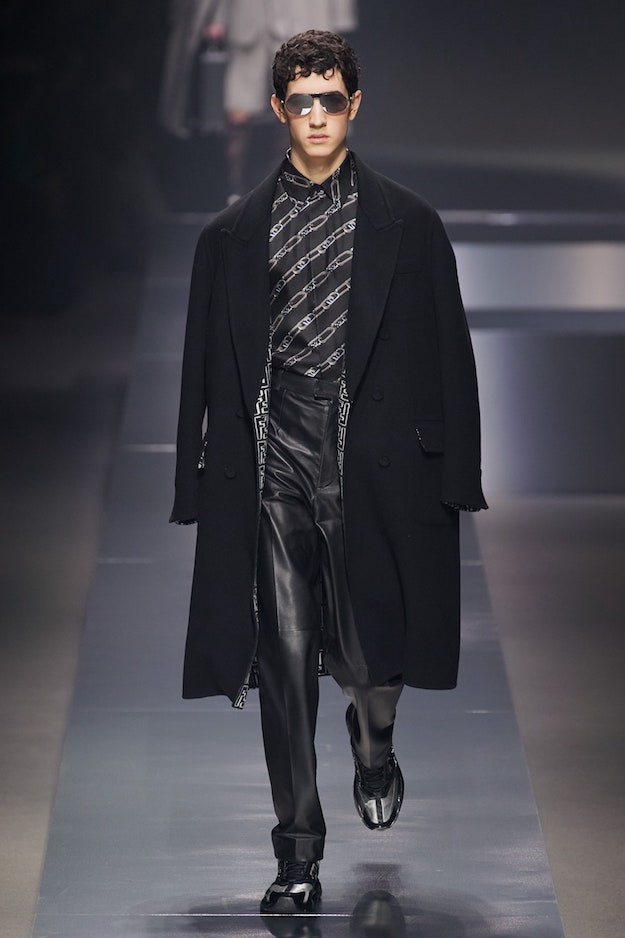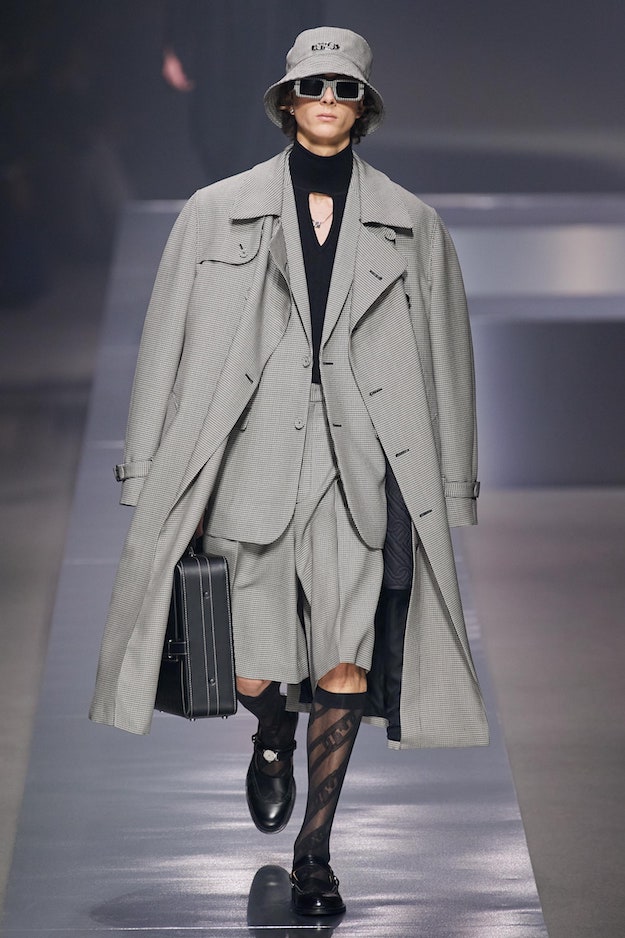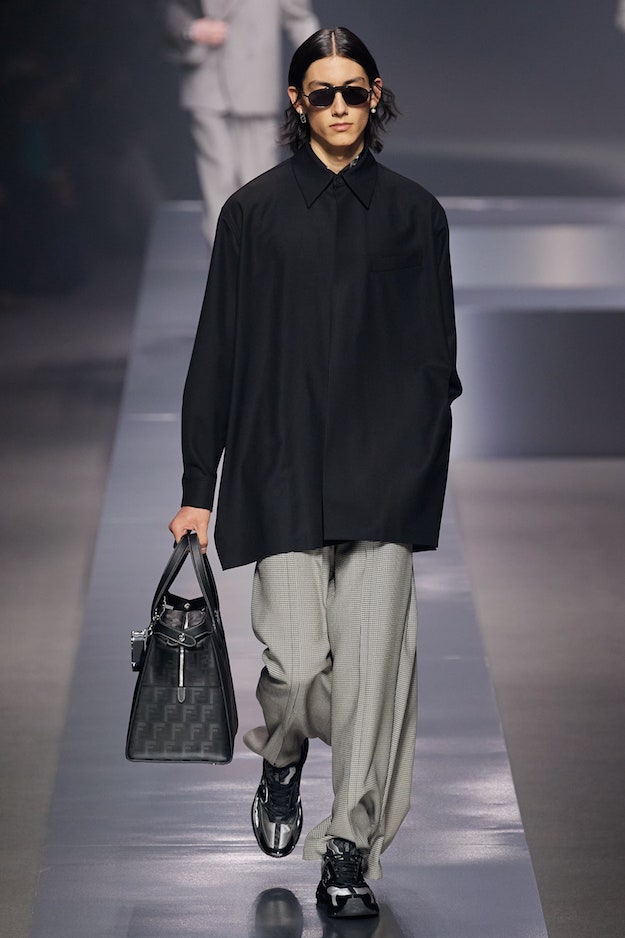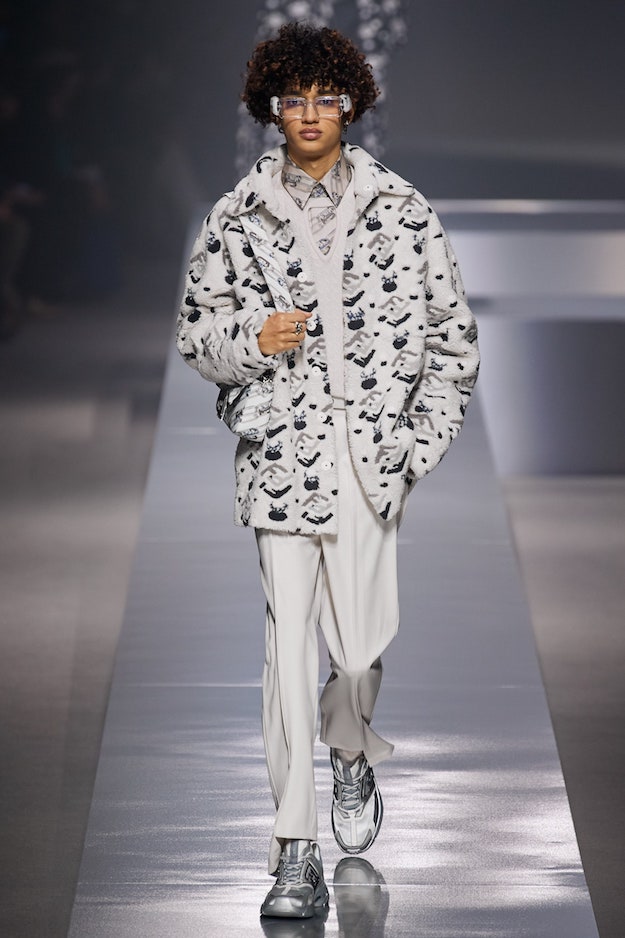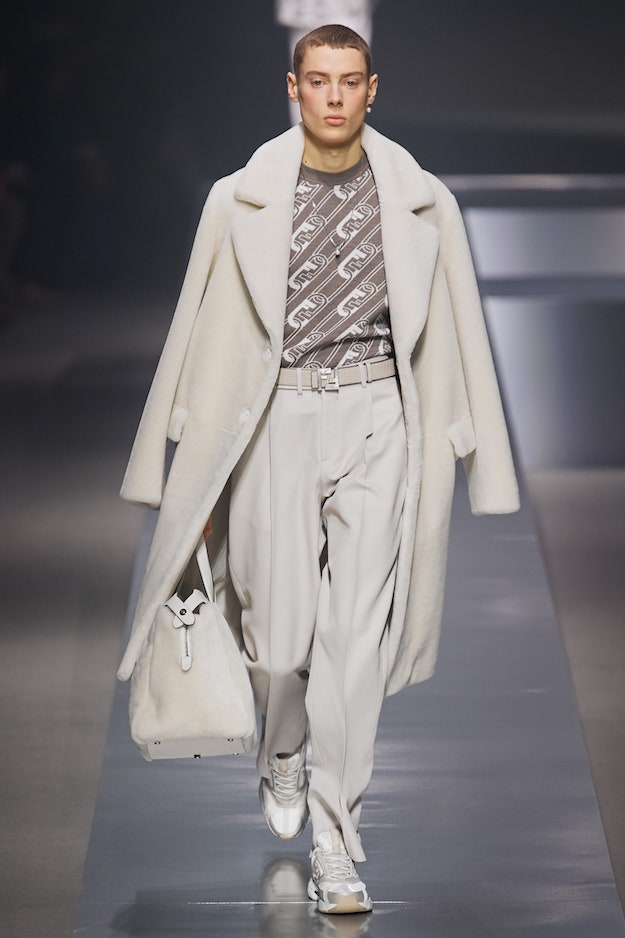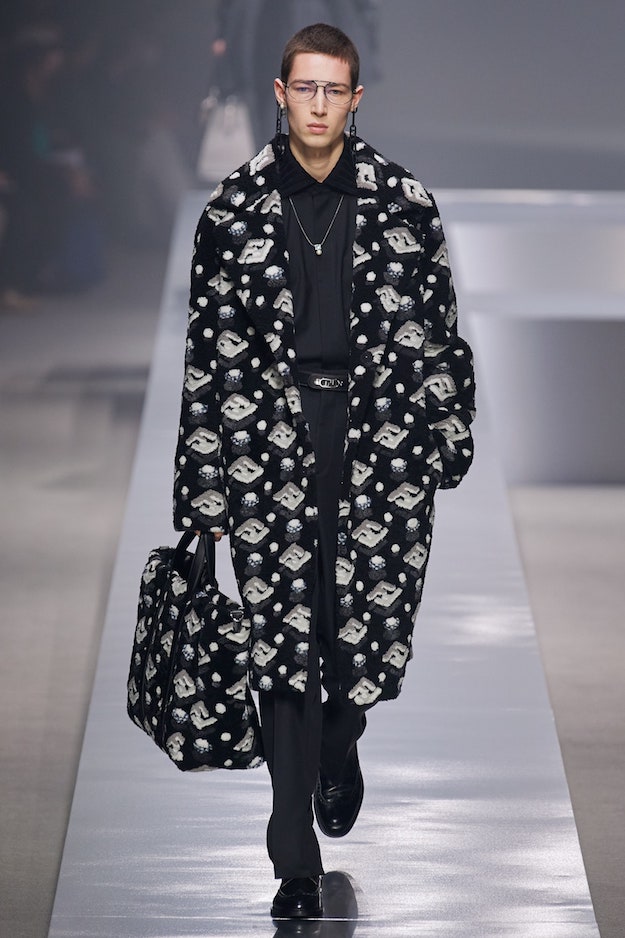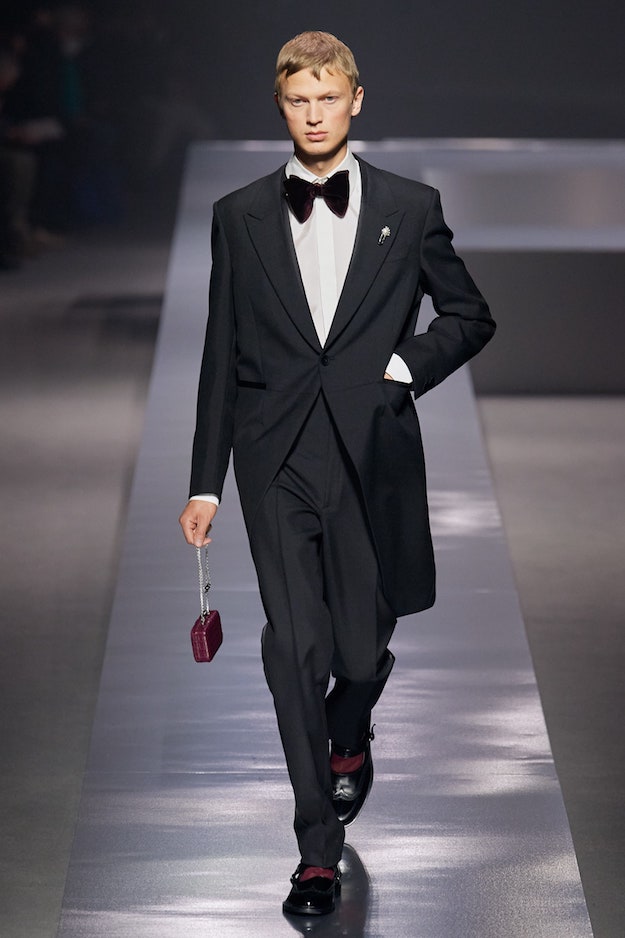 If occasion wear is a category that sounded vaguely quaint before the pandemic, today it sounds almost preposterous. And yet, said Silvia Fendi today: "I wanted to celebrate the classic wardrobe with which you are dressing for occasions—these are very few now so, they should be celebrated even more than before."
Thanks to the dry ice, the restless light direction and the late-for-the-office (if such a place still exists) pace of the models as they strode down the runway, it was sometimes easy to conclude that this was indeed a straightforwardly sentimental reprise of the "classic" menswear wardrobe. Signifiers of this included the houndstooth and checks galore that patterned a gentlemen's club color palette. There were loafers and Oxfords alongside a new Fendi runner, and tailoring aplenty. A closer look, however, revealed that almost every outfit—with the exception of Jonas Glöer's emphatically conventional Astaire-ish tailcoat tuxedo (plus bow tie!) at the very last—was built-in with a twist so anti-conventional it would leave most sartorial dandies needing physio. This was occasion wear spliced with the surreal, the ironic and the sensual.
Witness the knitwear cut in with cable-pattern intarsia fur strips that featured V-shaped cutaways at the neck to allow for a flash of the pearl-garlanded Delfina Delettrez Fendi-designed O'CLock necklace, worn with matching earrings. This clavicle-curious detail was developed in two evening jackets near the close, whose necklines were more Audrey Hepburn than Humphrey Bogart, and appropriately used to frame a pearl necklace. A stone-centered, crystal clad fur flower brooch adorned each lapel.
Suiting-centric pants and shorts in check wool or oxblood leather came with anterior caping details that linked each leg and made for a satisfying swoosh when walked in, even through the tasteful techno. This was reprised above in sleeveless jackets that could be shoulder-robed or buttoned at the skirt to allow for more capey flavor. There was a black check, reverse-layered jacket-topcoat hybrid whose box-pleated upper layer, if worn with arms outstretched, would be totally Batman appropriate. Especially enjoyable were the schoolgirl Mary Janes with Fendi timepieces attached to the strap—a throwback to the turn of the last century's grapple with where best to place a personal clock. These handsome horological footnotes could be worn on either right or left shoe, depending on your persuasion. Fendi said: "Because everybody uses their mobile phones to see the time, the watch has become more and more a decorative piece today."
The set was a sea of studiously neutral gray, its runway raised and in the shape of the FF-embedded O'Lock, in order to present the garments without any context beyond that of the brand: it was left to us to imagine the occasions they could be worn for. This reflected a new season collaboration with Ledger, the $1.5 billion valued (!) crypto/NFT hardware wallet manufacture: many of the fine Peekaboos and Baguettes in this show, many of them upsized and fabricated to match the looks they were worn with, were attached to jewel-like Ledger-accommodating Fendi wallet-wallets. This was for sure a new category for traditional luxury.
So has Silvia been dabbling in Dogecoin, speculating on Stellar, or buying up Bored Apes? "Not yet. But I'm always interested in what I don't know," she said. The concept of the metaverse, she added, "is still immaterial to me. I think about it because it gives me ideas about having a double, second life. Although for the moment. I will concentrate on what is material here today." Intarsia minks, shaved shearlings, and intarsia shearling knits were typically to-the-moon examples of Fendi's material expertise on show this afternoon: for what could possibly be more non fungible than the supremely fashioned tangible and touchable? This Fendi collection lent fascinating hypothetical material form—in fabrics and furs shaped to stimulate the wearer through feel, and the watcher their facade—to a masculinity freshly unchained from the obligations of tradition, yet still engaged with the beauty of that tradition's aesthetic.
Vogue.com