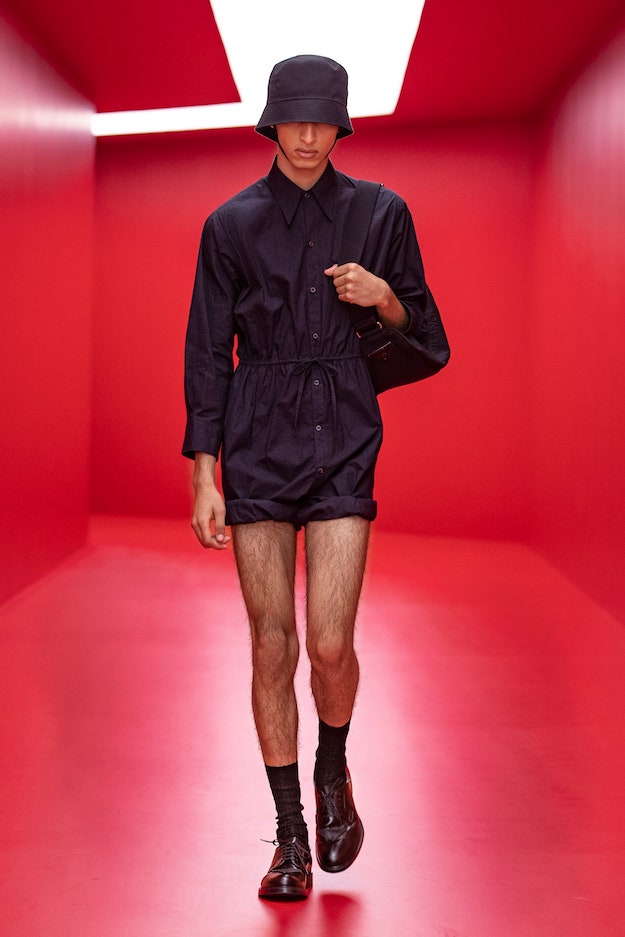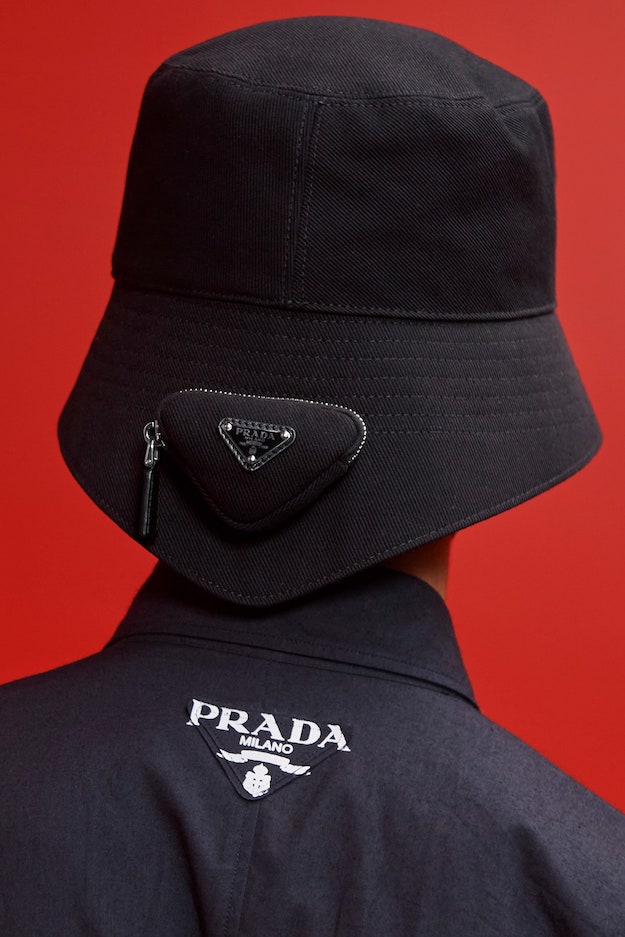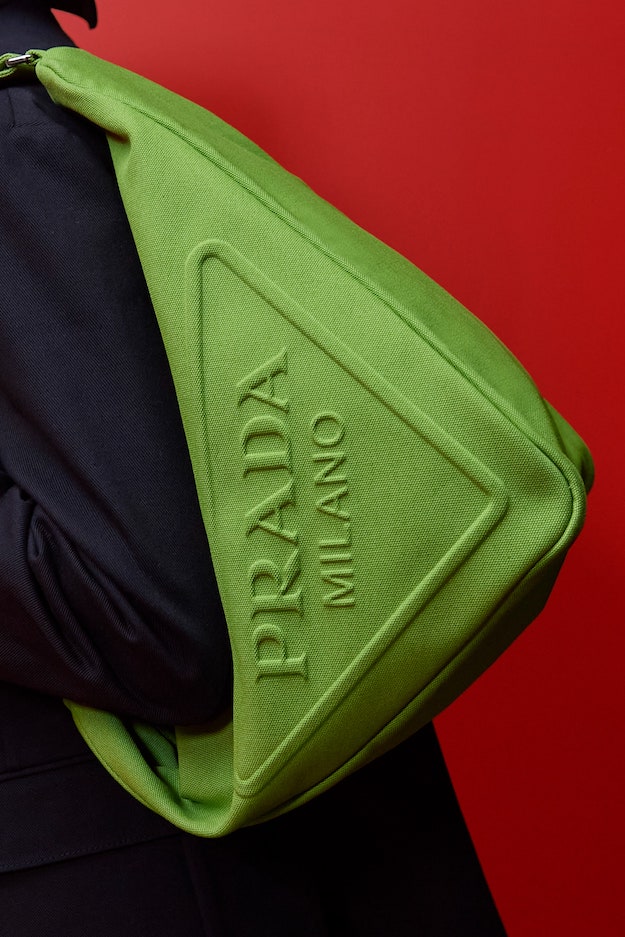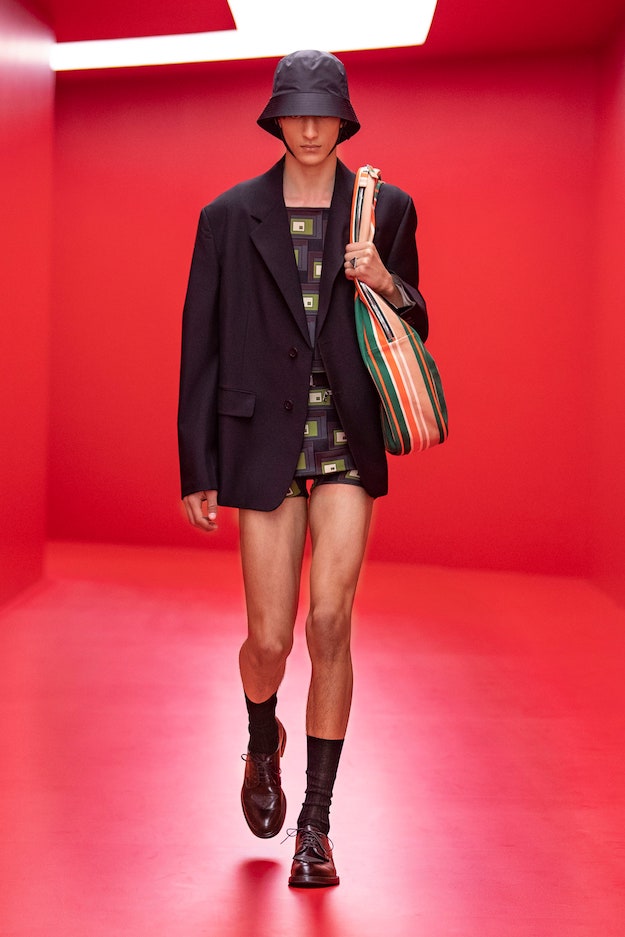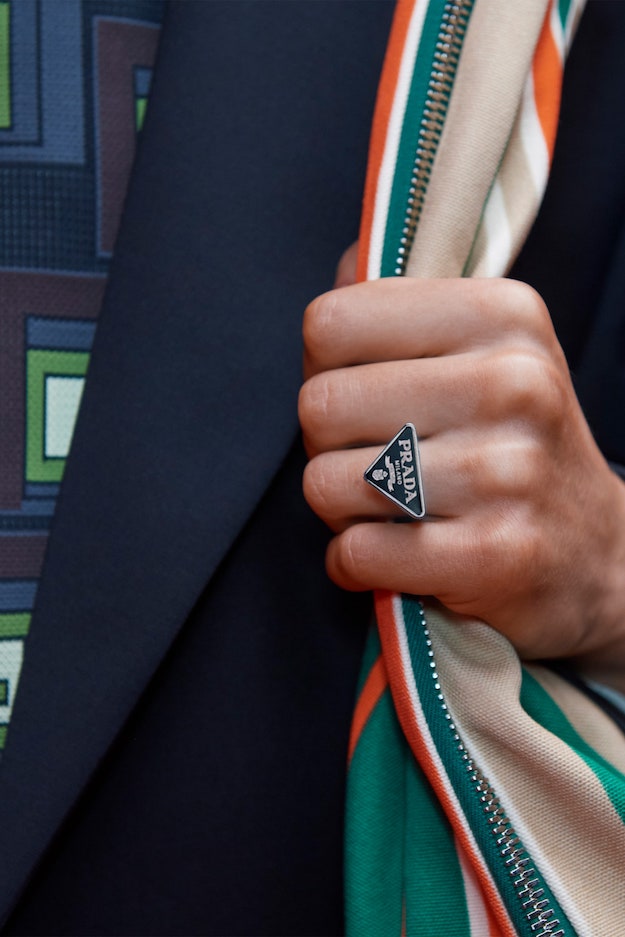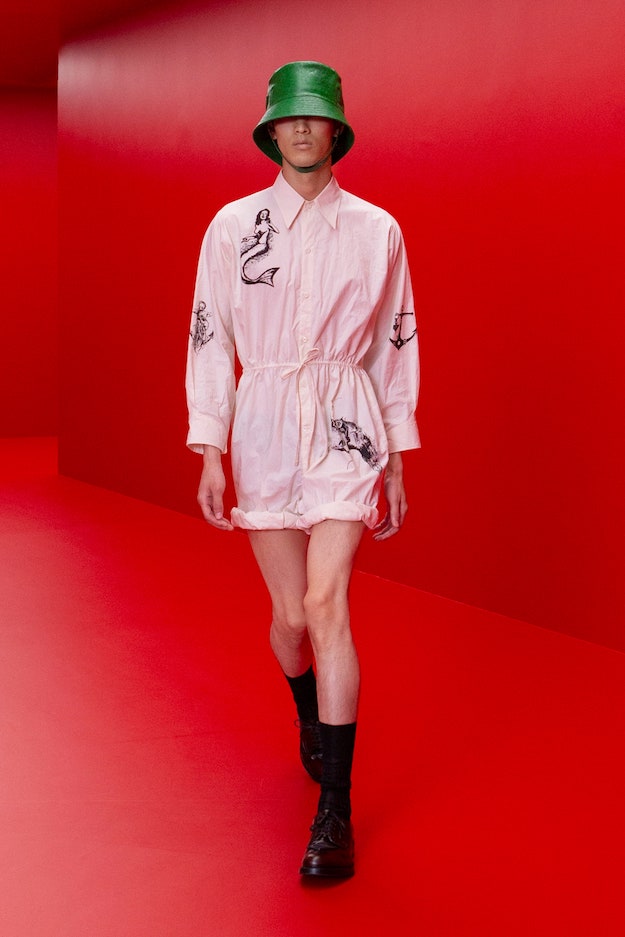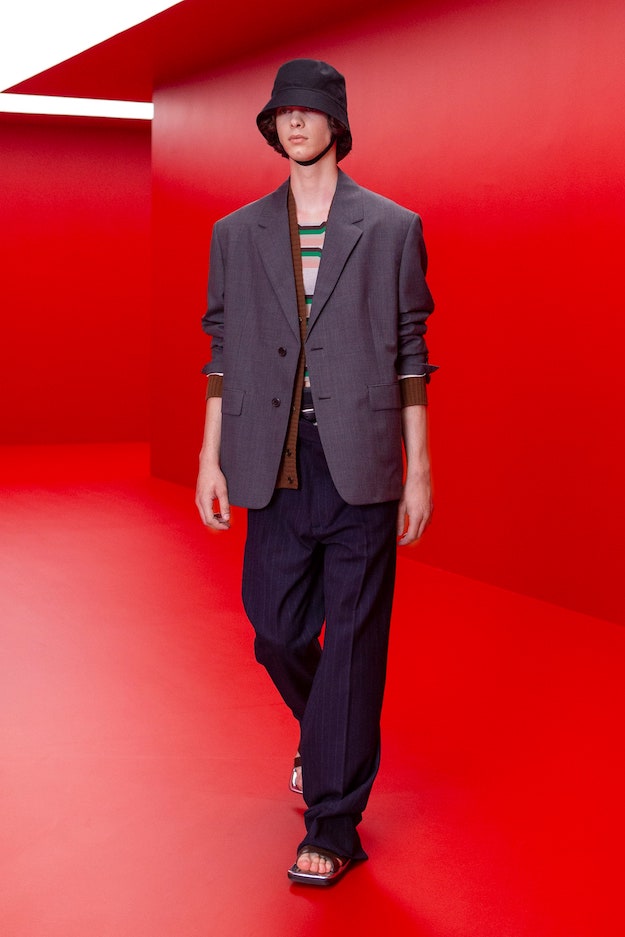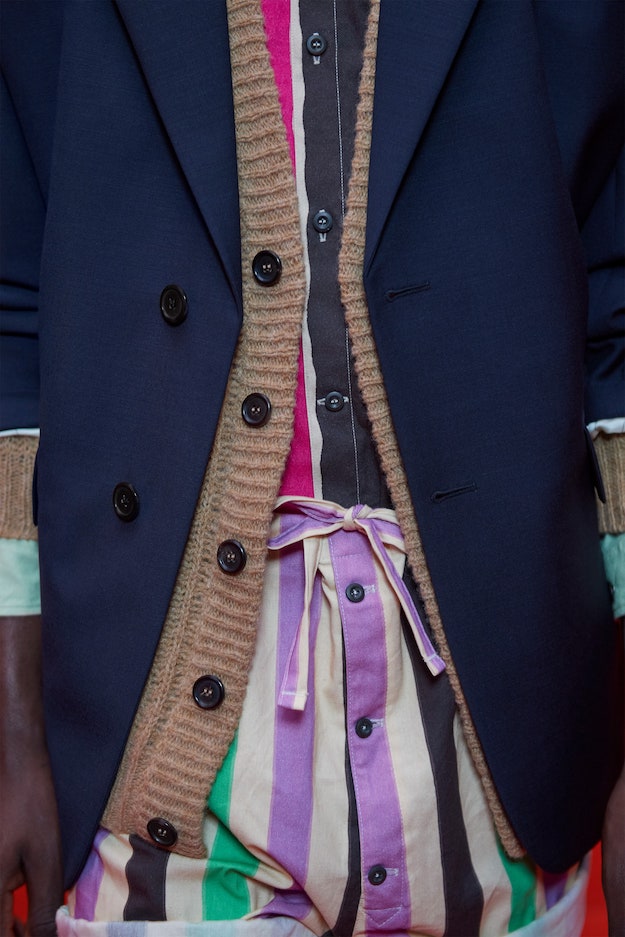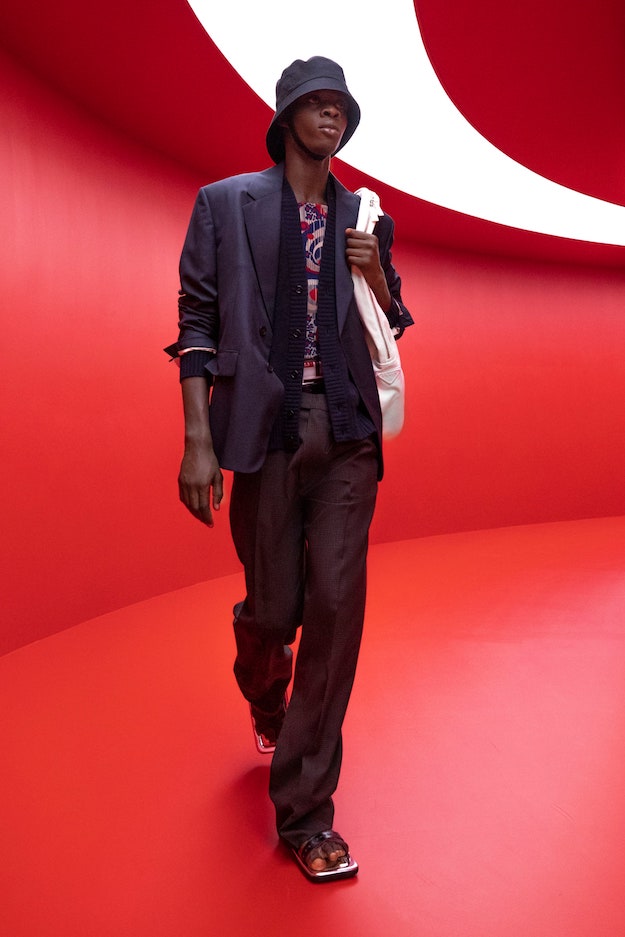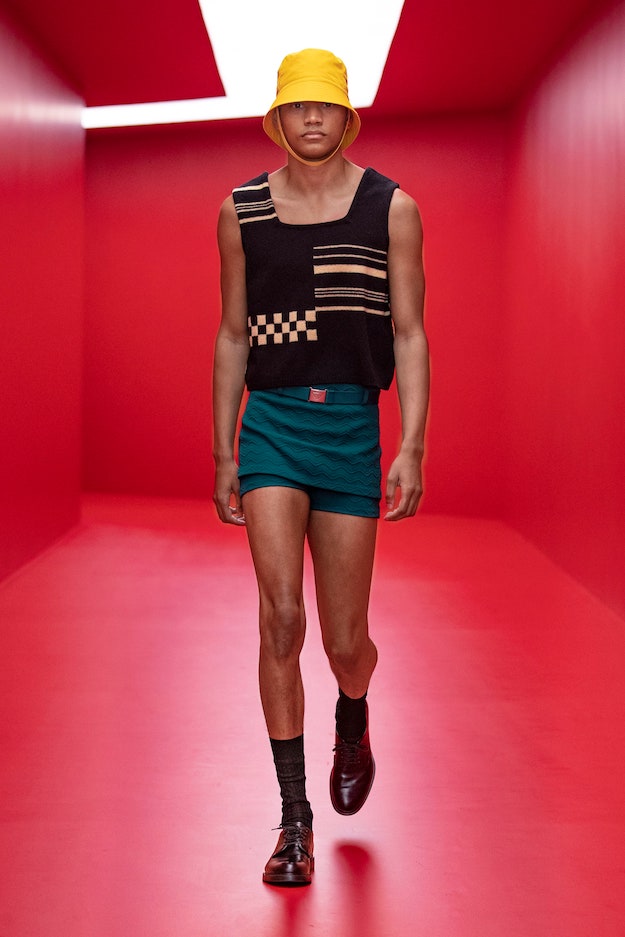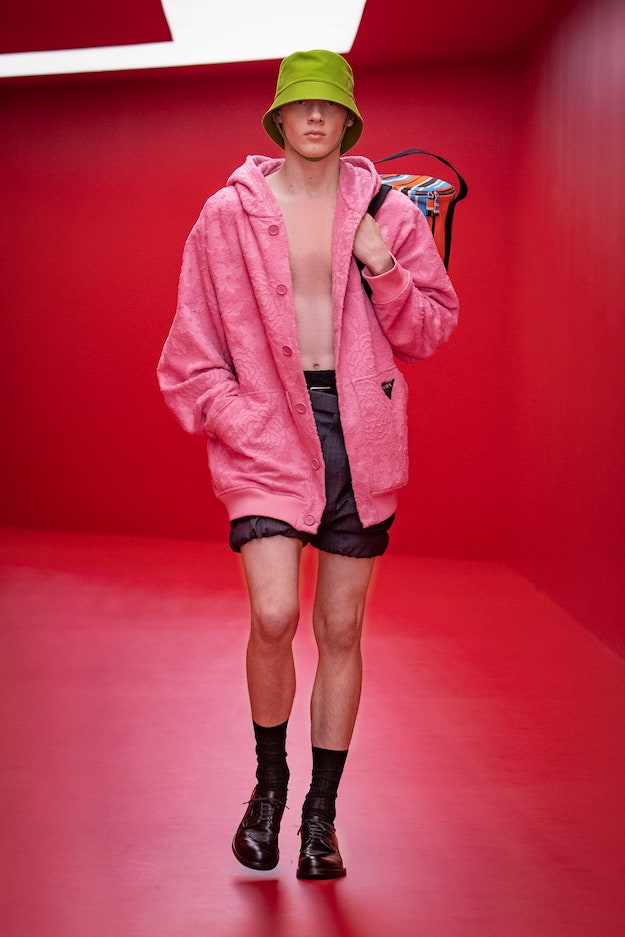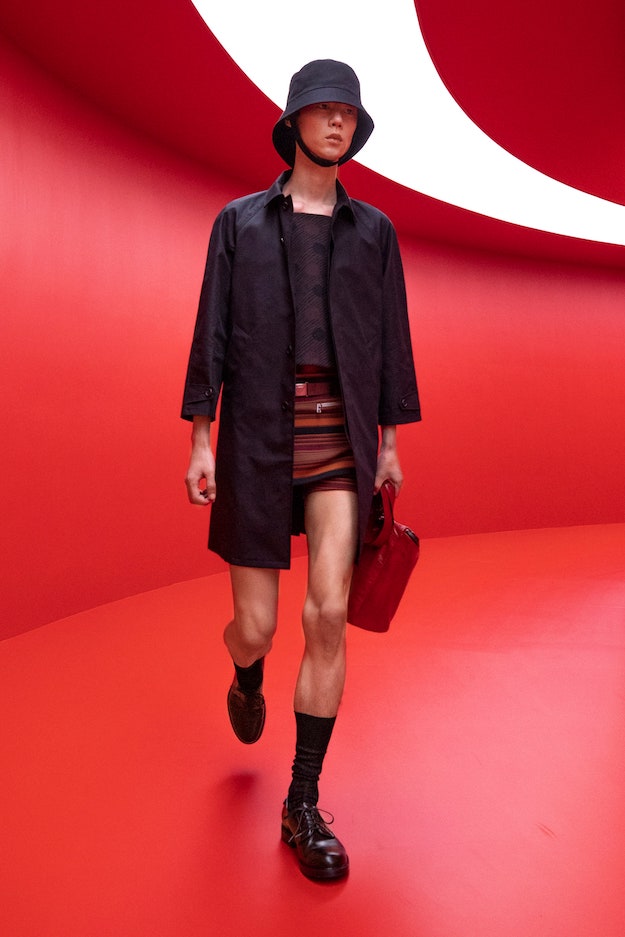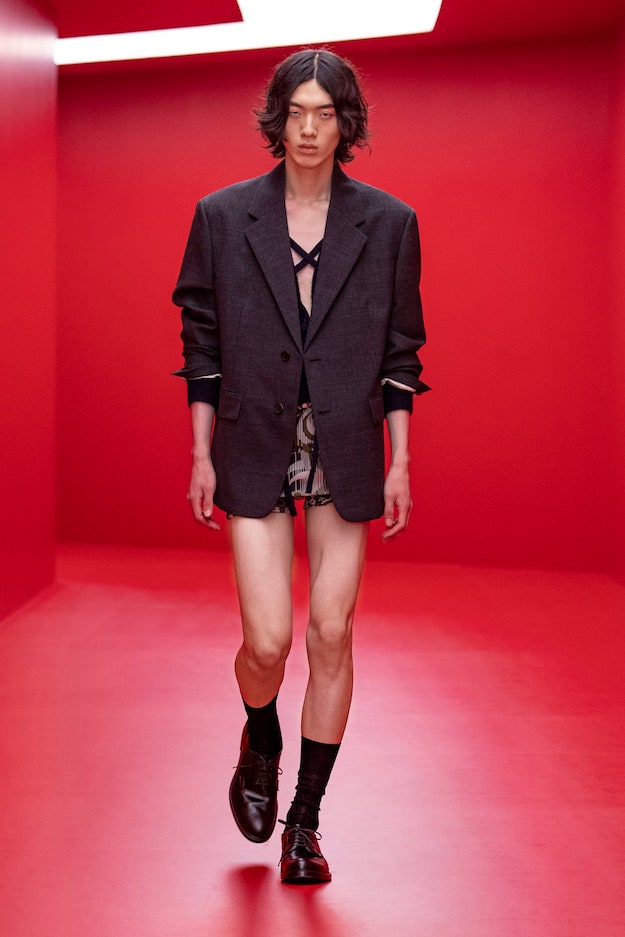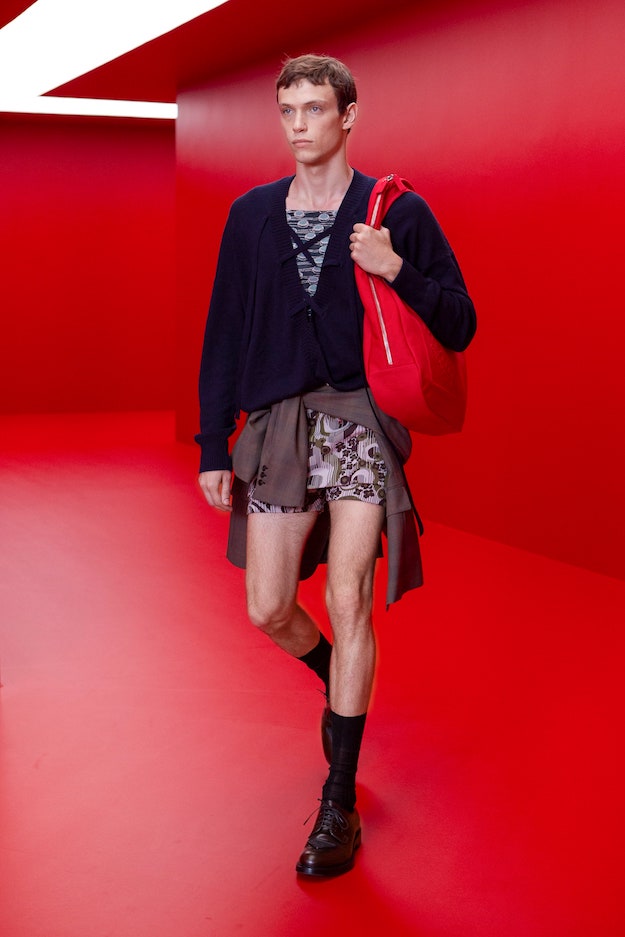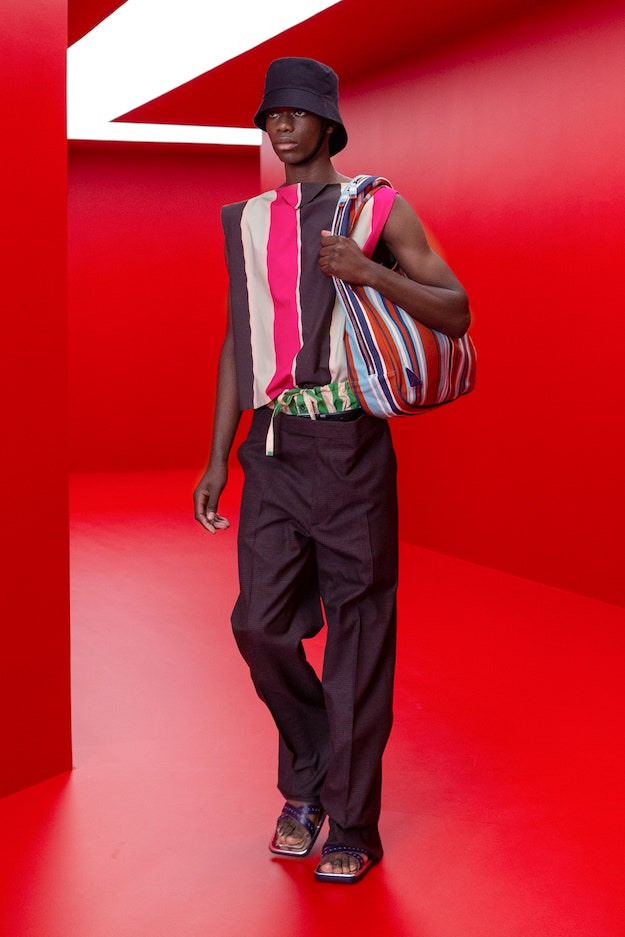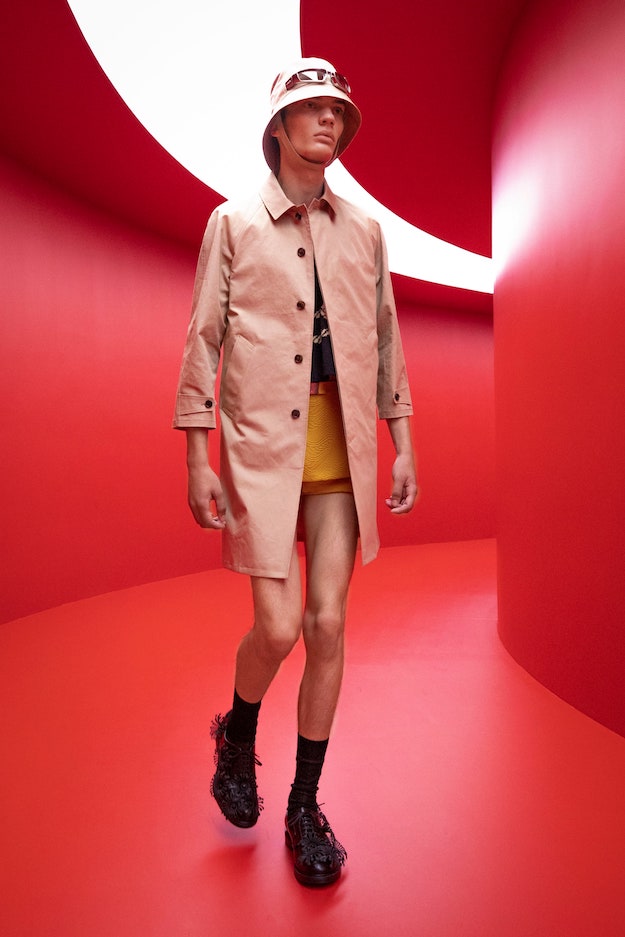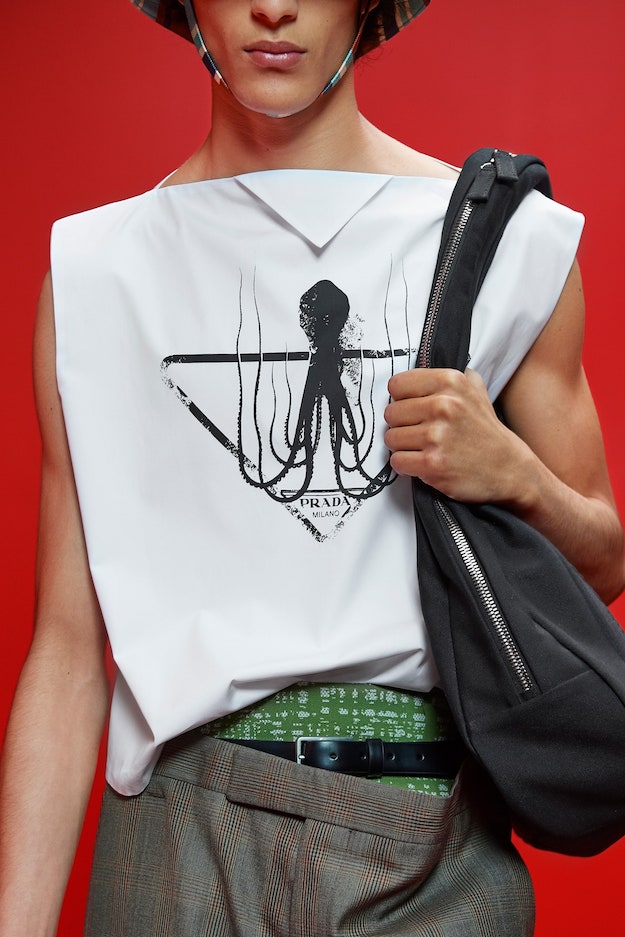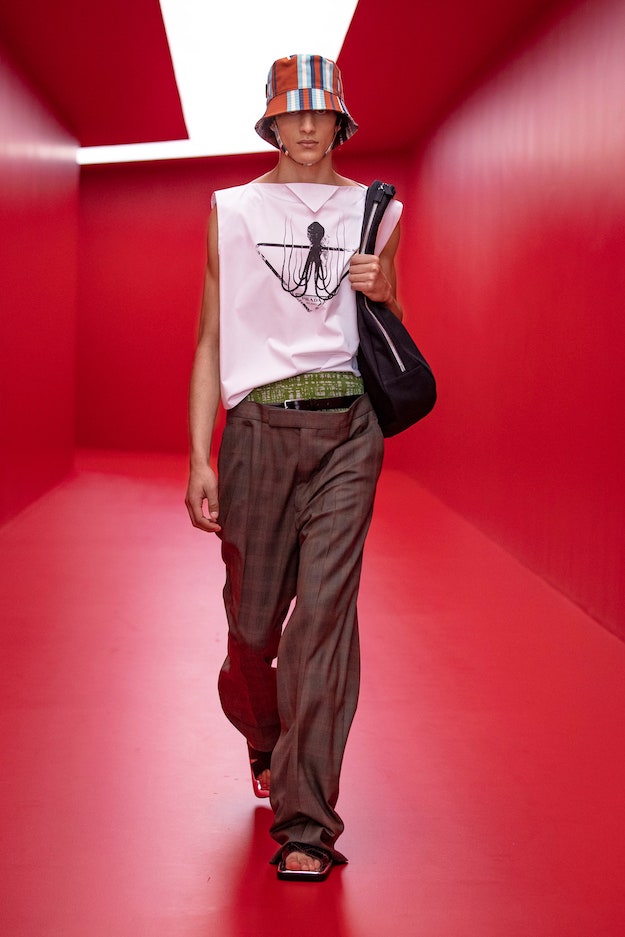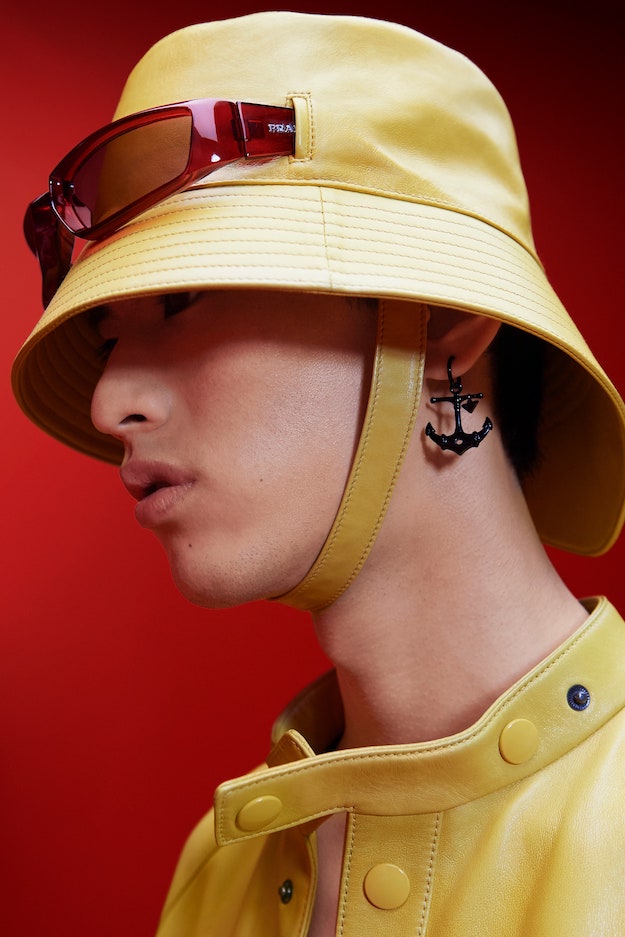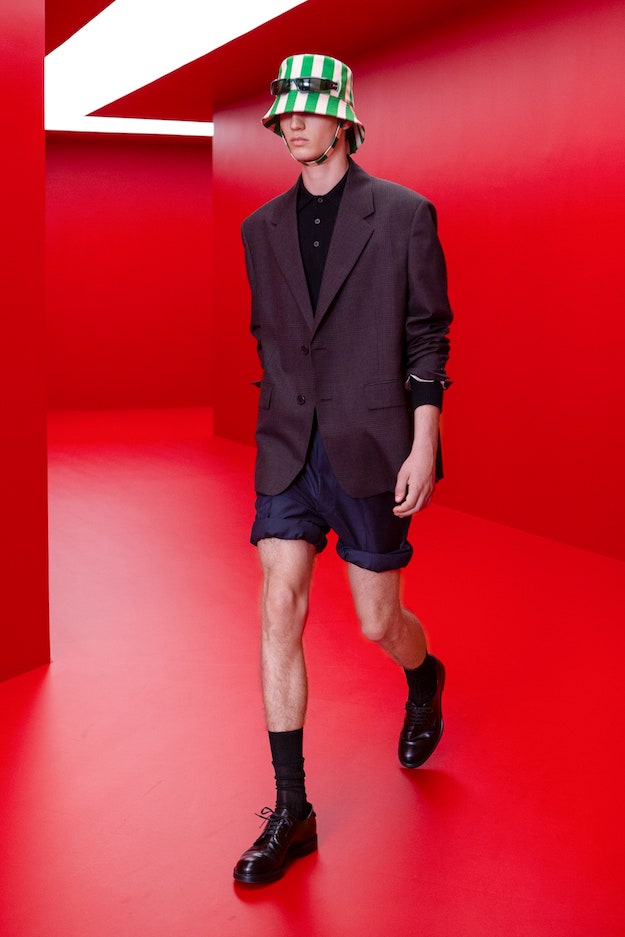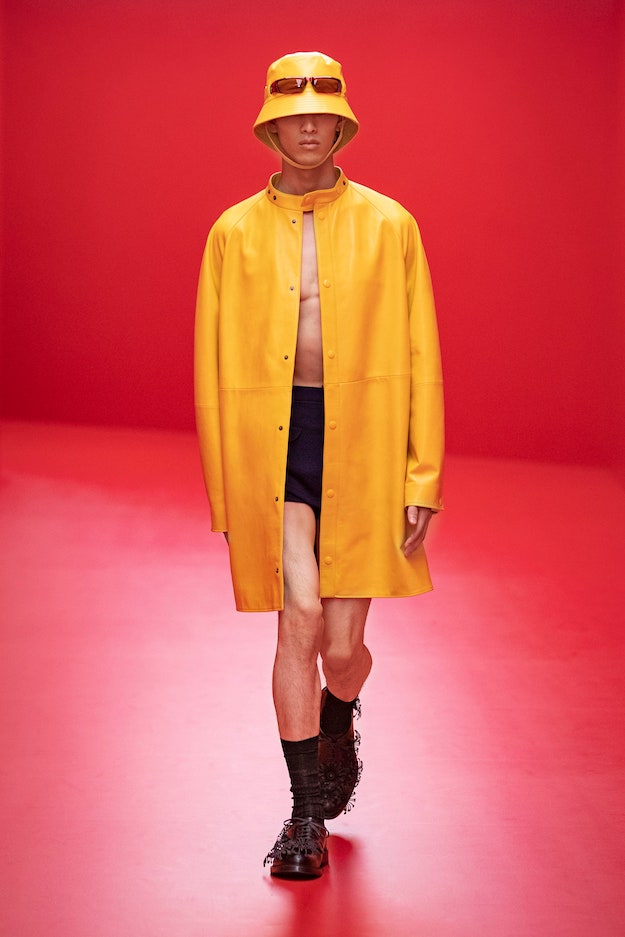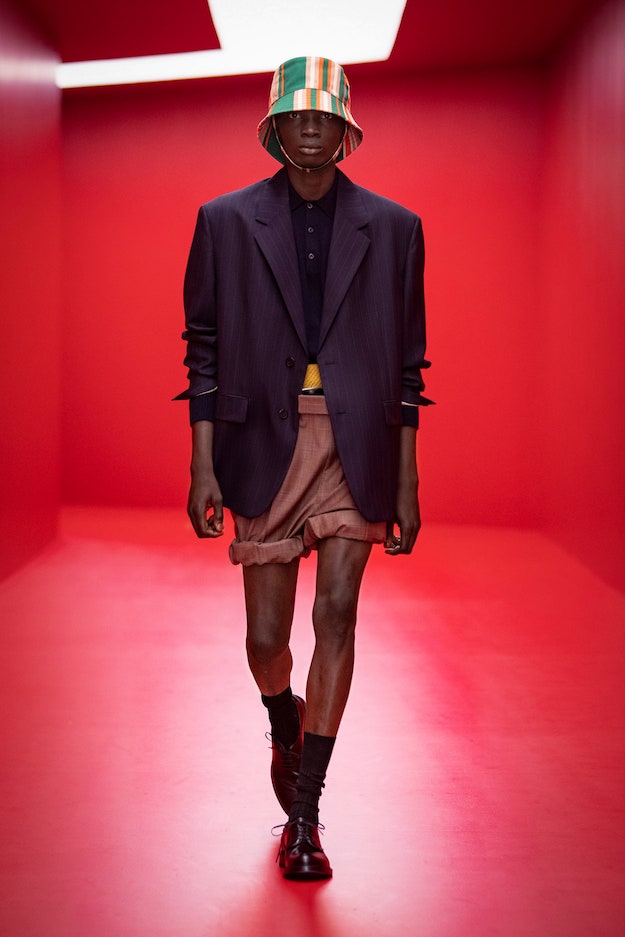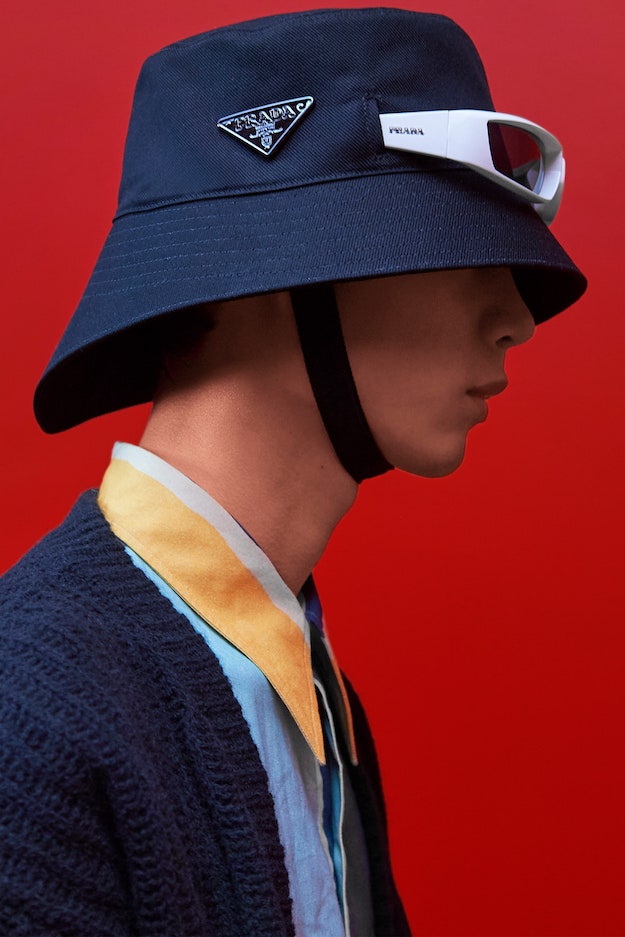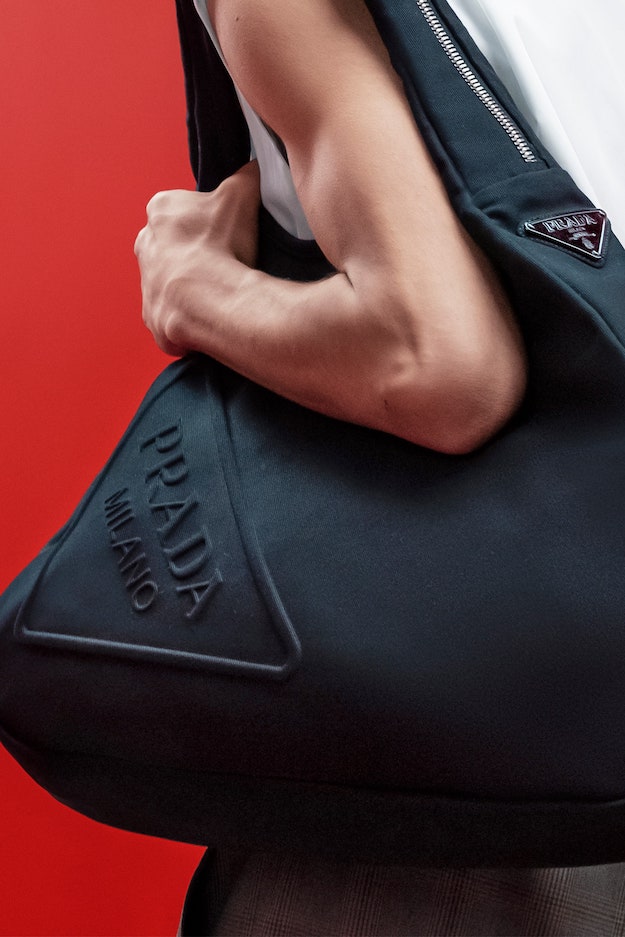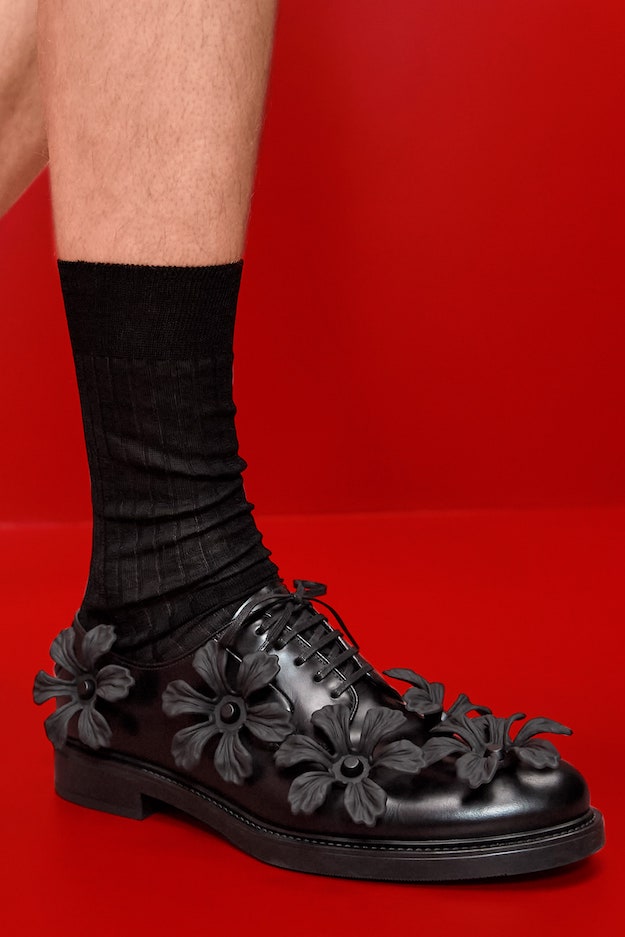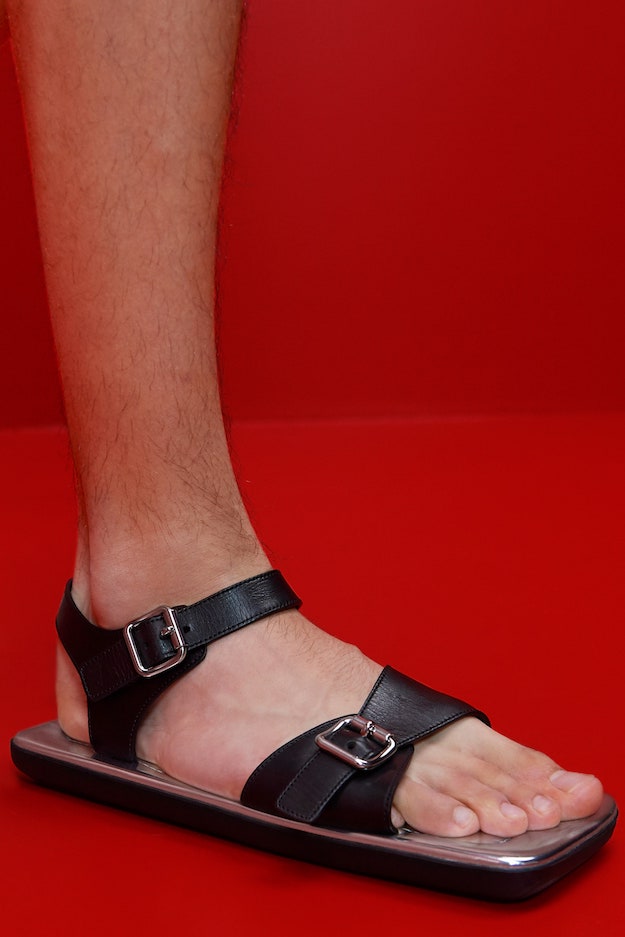 As my colleagues back at the Vogue Runway mothership in New York have been noting (with notable zeal), thus far spring '22 menswear is shaping up to be a startlingly skimpy season. Flesh-flashing, body-baring, call it what you will: yesterday alone saw Fendi and Dolce & Gabbana present some strongly stripped-down looks. And today Prada expressed the instinct to offer unconfined interaction with the elements. Because after the months of confinement we've all endured, who doesn't want to feel the wind and water directly on their skin? Who doesn't want to feel alive in the world?
Prada being Prada, of course, this was an instinct articulated more cerebrally than atavistically. Or as co-creative director Miuccia Prada observed in a quote released shortly before we gathered at the Fondazione Prada in Milan to watch the collection video: "A sense of the utopian, the ideal, of hope, positivity. To expose yourself to nature, to go to the beach—it's freedom. It is utopian. That is really a primary need—an intellectual need, too." This translated into a skin-heavy rendering of a reemergence that was tantamount to a rebirth.
The film opened with the models negotiating a "meandering red tunnel" (as per the notes), ready for the world ahead, but not yet in it. Very directly we were presented with some of the key motifs of what looked like a commercially strong Prada suite: bucket hats with almond-shaped brims at the back (a bit British policeman's helmet) with triangular logo pockets, and some with the awesome functionality of slits at the front to allow sunglasses to be slipped in them. Romper suits with turned-up short hems were presented in corporate-worker charcoal cotton or sailor-boy white, the latter printed with tattoo-ish nautical motifs including octopi, voluptuous mermaid/sirens, anchors and anchor fish: these reminded slightly of Prada's prints from fall 2016's romantic sailor collection.
Another key example of self-reference—ingenious insurance against the call-out crew—was the skort that will probably be remembered as the defining garment of this collection but which also echoed those of spring '17 womenswear. More expert Pradaphiles than me at the lunch afterwards noted over our green beans and octopus further references that stretched way back to the 1990s.
Around two minutes into the film, Prada's boys finally hit the beach. The scenes were filmed at the south-eastern point of Sardinia, on the coast of Capo Carbonara, an area where the house is funding the reforestation of marine ecosystems. By coincidence, it is also where I'm booked to spend my summer holiday. It was in this setting that the presentation changed from formulaic runway walk into something more apparently spontaneous and free, in order to evoke an essence described by Raf Simons in his pre-show quote portfolio: "The primary feeling is one of joy. It's almost like that memory of a child, the joy of a child going to the beach. The simplest and most honest of pleasures. In all its simpleness, it's also something very meaningful and timeless."
The notion that next summer's Prada boys would IRL go paddling in their coral-decorated derby shoes and black socks pulled up high was pragmatically a blatant no-no, but metaphorically an illustration of the transition this collection was working to encapsulate. More convincingly beach-ready were the floral-shorn terry hoodies, the skorts of course, the beautiful bucket bags in cracked leather and rowing stripe cotton drill, and those awesome sou'wester-adjacent hats.
Away from the water, highlights included a biker jacket in yolk-yellow or show-set-red which felt like an unusual template here; double-waisted pants made to be worn loosely and tantalisingly adrift at the front; plenty of tailoring with (again) rolled up sleeves; and multiple full-look-izations of the skorts via teaming them with matching tank-tops. These looks seemed like summer iterations of the last-show long johns.
Being able to see the clothes immediately after the screening was a huge improvement on the digital experience of the last few seasons, and even if the collection was shown via film, to watch it in the Fondazione Prada made the interaction feel at least semi-physical. It was certainly a pleasure to be back at the house and working amongst colleagues, something that seemed reflected in the spirit of the clothing we were there to see. Or as Mrs. Prada said in her quotes: "This collection and this show is very much about capturing that, the joy of the everyday. The notion that living your life can be a euphoric experience. Much joy can come out of something so simple: when times are complicated, we are searching for simple, direct joys. An innocence."
The most notable absence today was probably that of Prada and Simons, but it didn't subtract all that much from the experience. And it would be nice to think that instead of being bombarded with our questions they were on a Sardinian beach somewhere, feeling the sand between their toes and squinting together into a sun-dazzled laptop screen to see this new beginning unfold.
(Vogue.com)