For over a month, from New York to London to Milan to Paris, brands and fashion houses presented the best of fashion for the Fall-Winter 2023-2024 Fashion Month. While the Fall-Winter 2022-2023 and Spring-Summer 2023 seasons were a real takeover of the 2000s and the (infamous) style experiments of this fashion decade, Fall-Winter 2023-2024 returned to the very essence of fashion with even more refined desires, celebrating freedom of movement all the while staying true to the spirit of the times. The collections remained dedicated to daily wear but gone were the casual, practical, and/or technical pieces replaced instead, with a chic approach, and this was particularly true of evening wear. In terms of color, beige, in all its varying nuances, promised elegance, while sorbet-colored hues infused the winter collections with a welcome dose of vitamins, that made them even more fashionable (and cheerful) than ever.
1. Skirts layered over pants
Although the 2000s trends seem to be gradually fading from the catwalks, a final stylistic expression persisted for the sake of nostalgia for this emblematic fashion era: skirts were layered over pants in matching colors and tones at Fendi, Givenchy, and Chanel.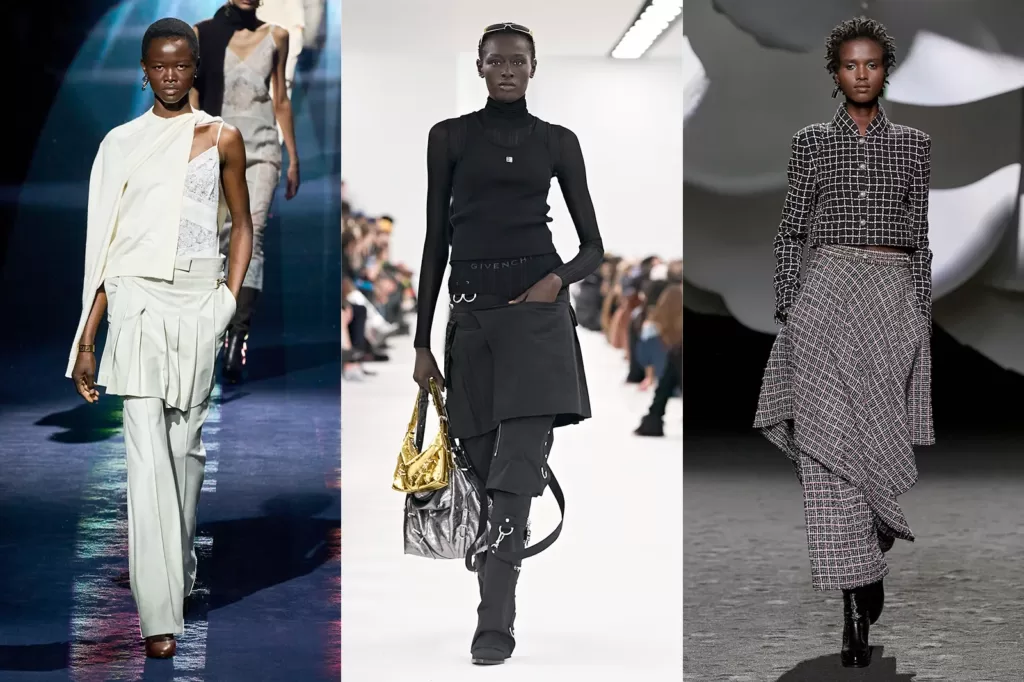 Fendi, Givenchy, Chanel via GoRunway
2. Neckties
While keeping true to its austere form, the tie was also used to enhance a tuxedo ensemble at Dolce & Gabbana, as well as lending new dimensions to a shirt paired with a skirt at Dior and Valentino.
Dolce & Gabbana, Dior, Valentino via GoRunway
3. Short shorts
Short shorts or underwear? It hardly mattered as long as the lengths were micro-short and let you show off your legs. Whether it was athleisure at Miu Miu or officewear at Andreas Kronthaler for Vivienne Westwood and Ferragamo, the (very, very short) shorts seduced us with their versatility.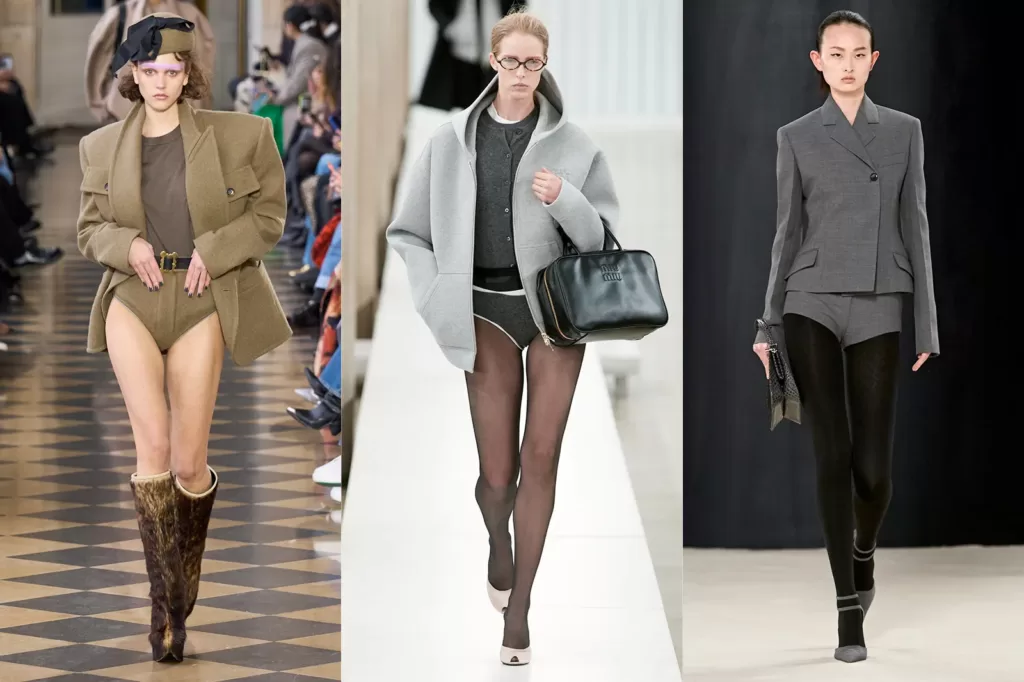 Andreas Kronthaler for Vivienne Westwood, Miu Miu, Ferragamo via GoRunway
4. Néo-bouquets
We've come a long way from the grandiose declinations we saw the previous season. This time around, the flowers were delicate, embroidered, or affixed, yet still, 3D, which created the illusion of a resolutely poetic bouquet, at Prada, Lanvin, and Chanel.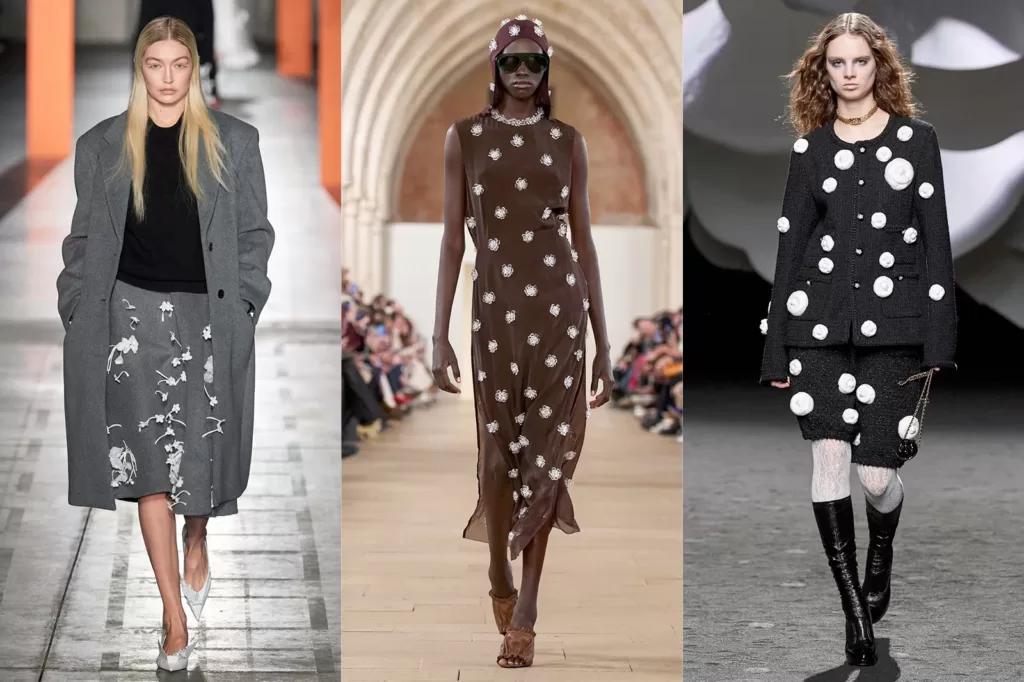 Prada, Lanvin, Chanel via GoRunway
5. Tartan
The ever-popular tartan pattern moved away from its classic punk/grunge aesthetic to be worn as a full ensemble in a boldly vibrant tartan color palette at Andreas Kronthaler for Vivienne Westwood, Dior, and Burberry.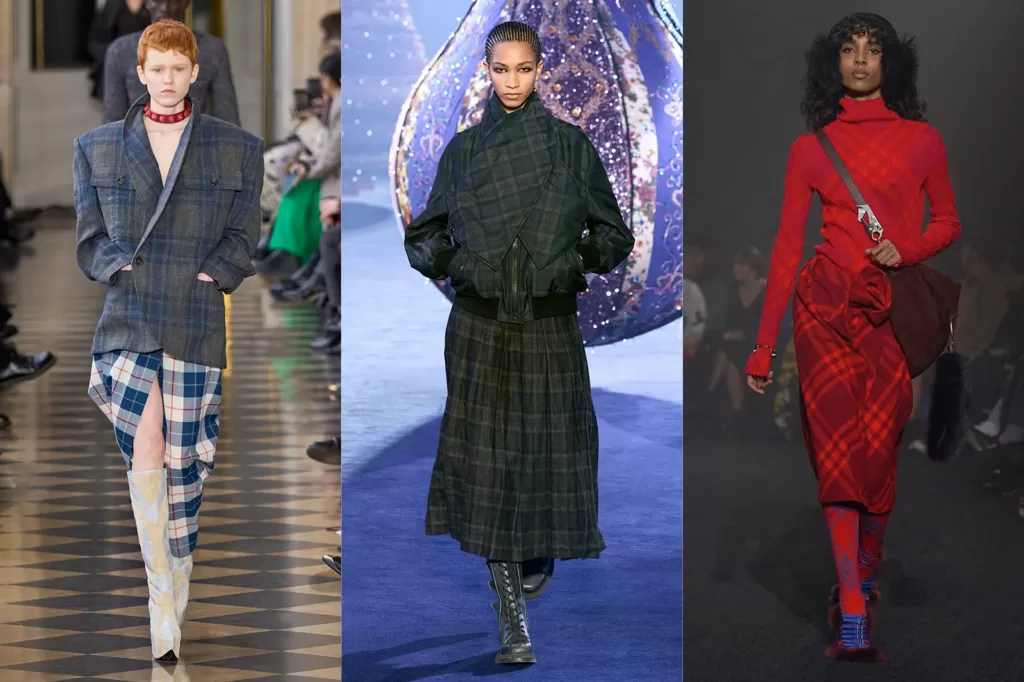 Andreas Kronthaler pour Vivienne Westwood, Dior, Burberry via GoRunway
6. Ultimate laceworks
There was lace, but it came in black only. Eveningwear reveled in the beauty of sheer details and impeccable lace craftsmanship at Gucci, Off-White, and Balenciaga.
Gucci, Off-White, Balenciaga via GoRunway
7. Black and whites
Black and white are a pair of absolute nuances, yet they shined in pairs and highlighted the winter silhouettes. This austere approach reflected a desire for understated luxury, particularly at Emporio Armani, Chloé, and Chanel.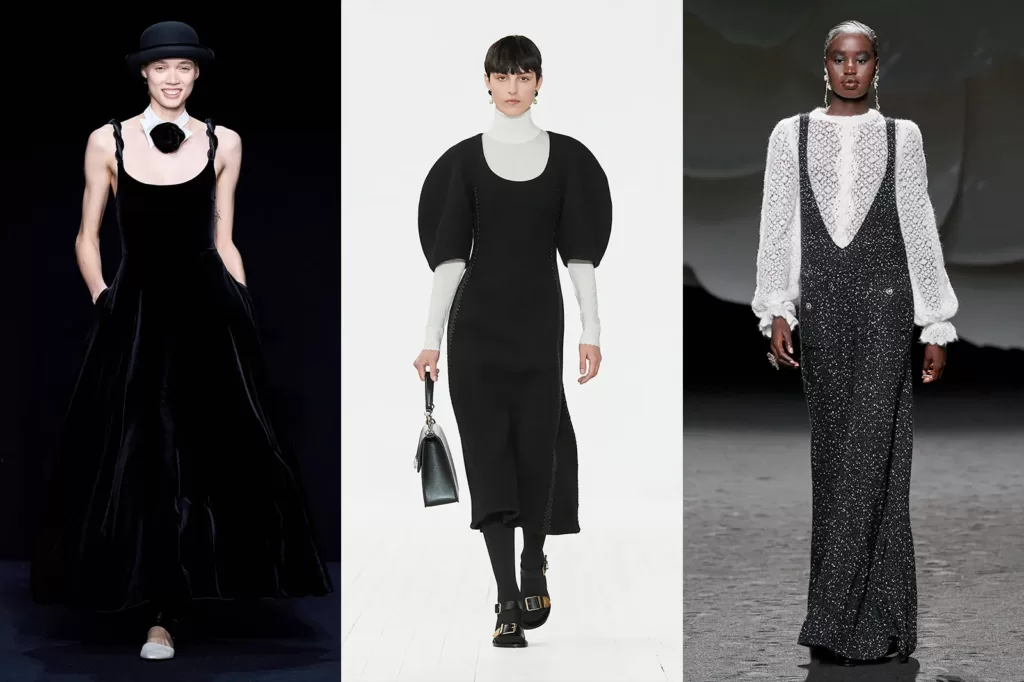 Emporio Armani, Chloé, Chanel via GoRunway
8. A palette of pop colors
Winter doesn't have to rhyme with a gloomy or conventional color palette and at Loewe, Givenchy, and Paco Rabanne there was a bright and cheerful twist to our favorite looks.
Loewe, Givenchy, Paco Rabanne via GoRunway
9. Double denims
We had denim double vision – worn as a total look. The only rule of thumb: combine it with similar shades to achieve a flawless look. Whether it was bleached, raw, deconstructed, or showcased with sharp tailoring, jeans were the season's ultimate statement at Ami, Y/Project, and Versace.
Ami, Y/Project, Versace via GoRunway
10. Beige in all its shades
The ultimate exercise in color expression, a range of beige shades was used to elevate layering as a winter fashion statement at Michael Kors, Hermès, and Saint Laurent by Anthony Vaccarello.
Michael Kors, Hermès, Saint Laurent par Anthony Vaccarello via GoRunway
11. LBDs (with a twist)
These aren't your average little black dresses. Next winter, the LBD will confirm its reputation as a fashion statement thanks to the graphic declinations seen at Alexander McQueen, Loewe, and Louis Vuitton.
Alexander McQueen, Loewe, Louis Vuitton via GoRunway
12. Power shoulders
Although timeless, the '80s structured shoulder pads seem to be making a major comeback, looking more XXL than ever. We were truly won over by the designs seen at Saint Laurent by Anthony Vaccarello, Courrèges, and Balenciaga.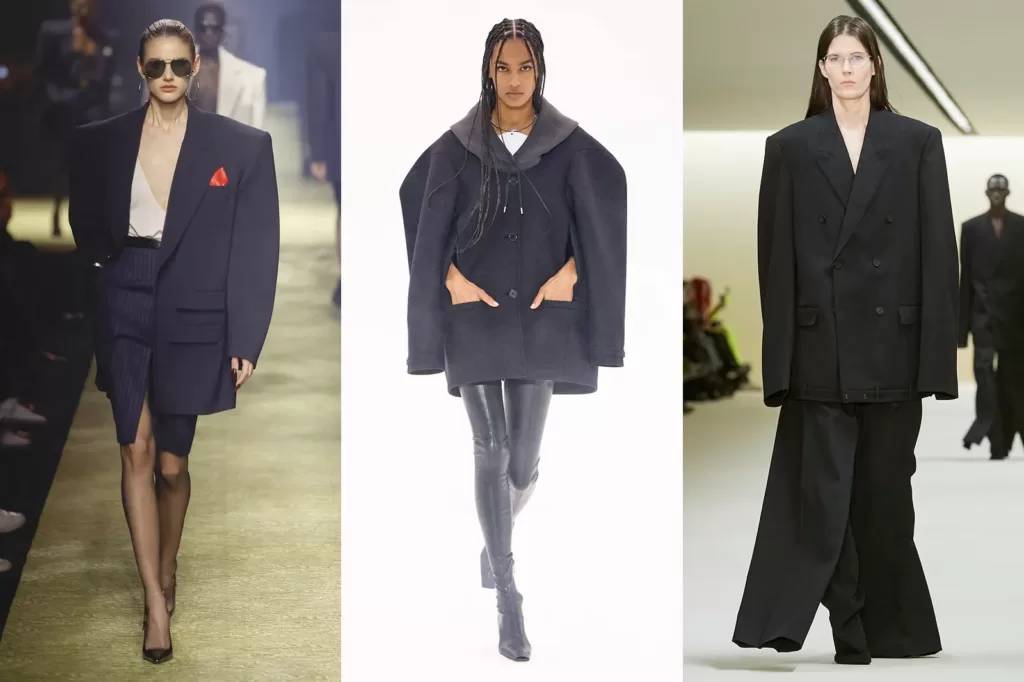 Saint Laurent par Anthony Vaccarello, Courrèges, Balenciaga via GoRunway
BY HÉLOÏSE SALESSY
22 MARS 2023
Vogue France