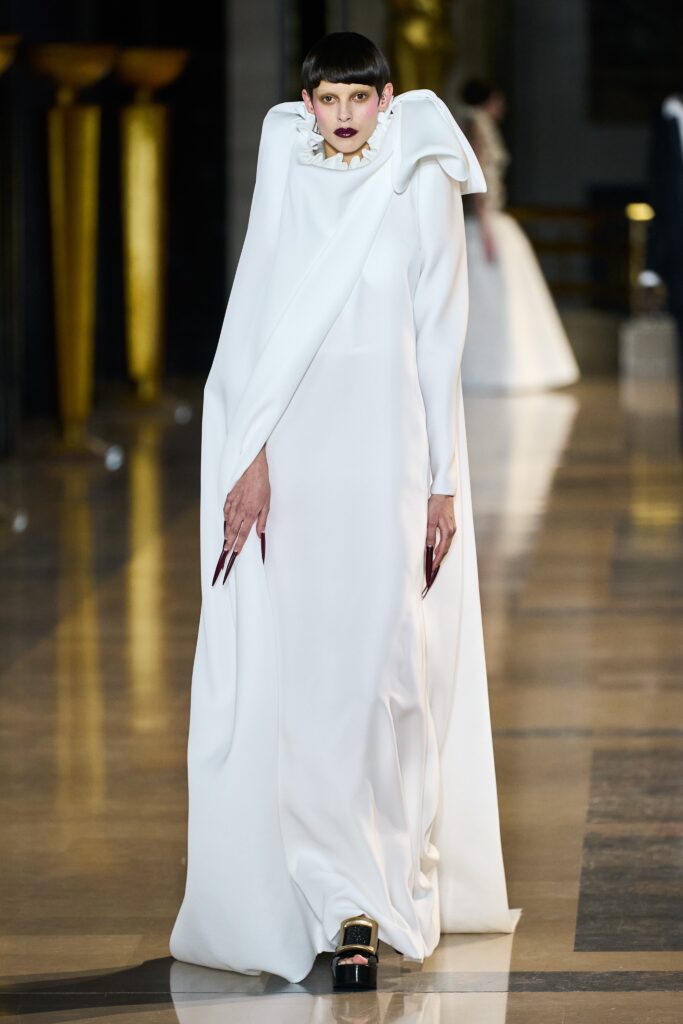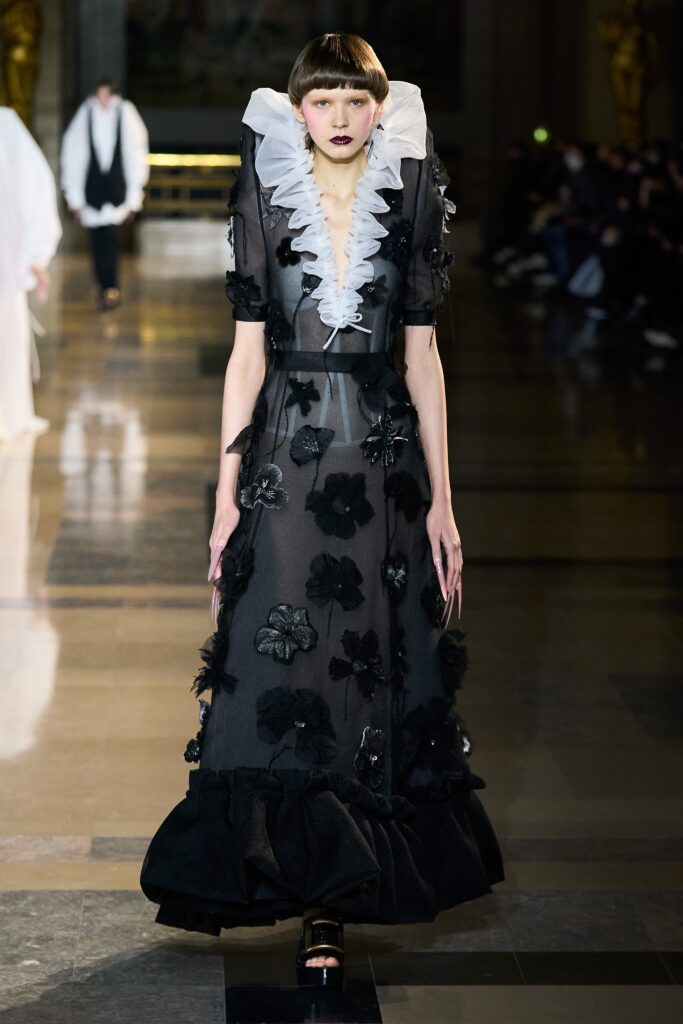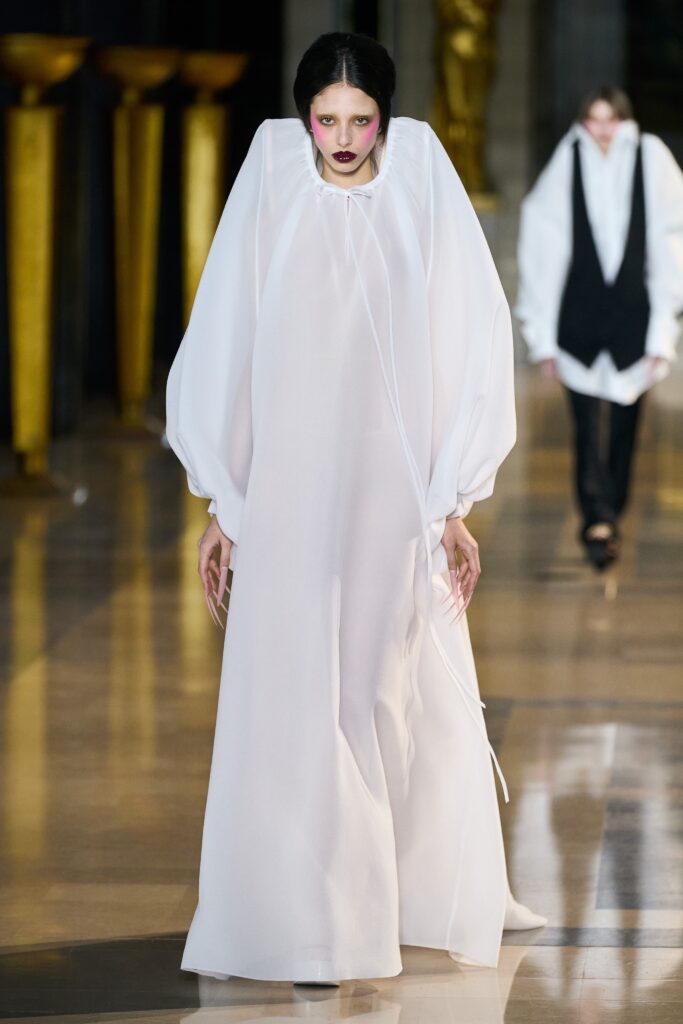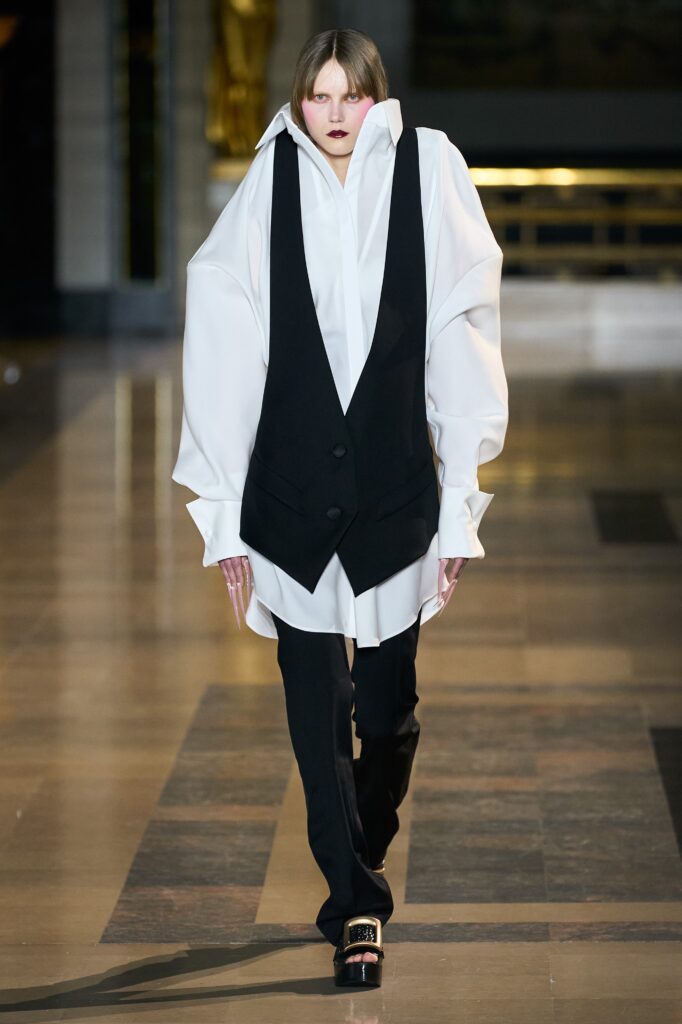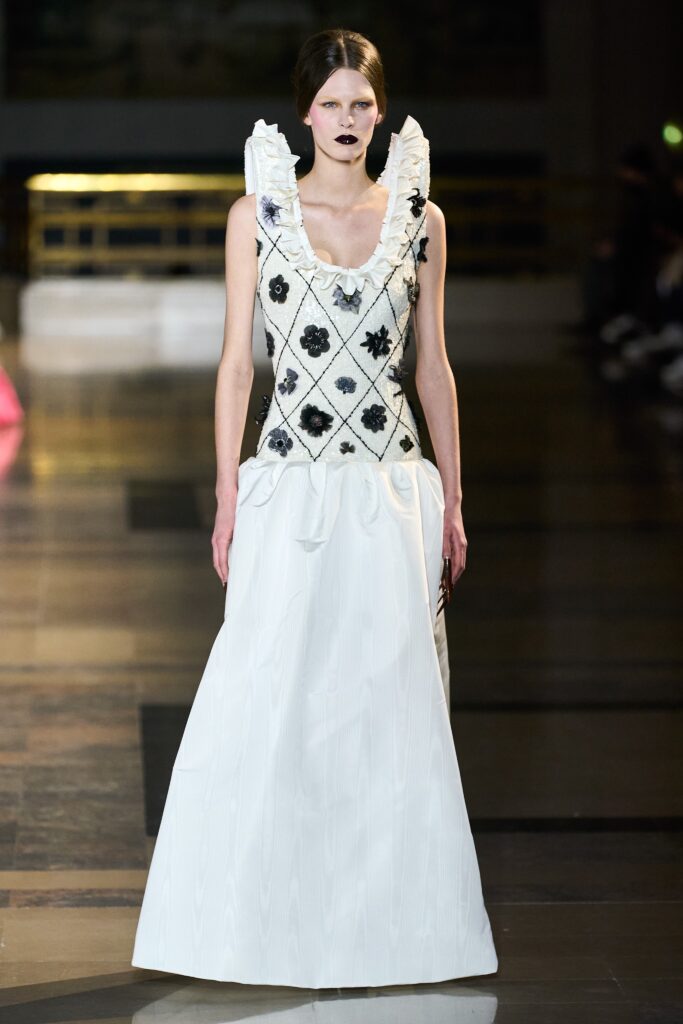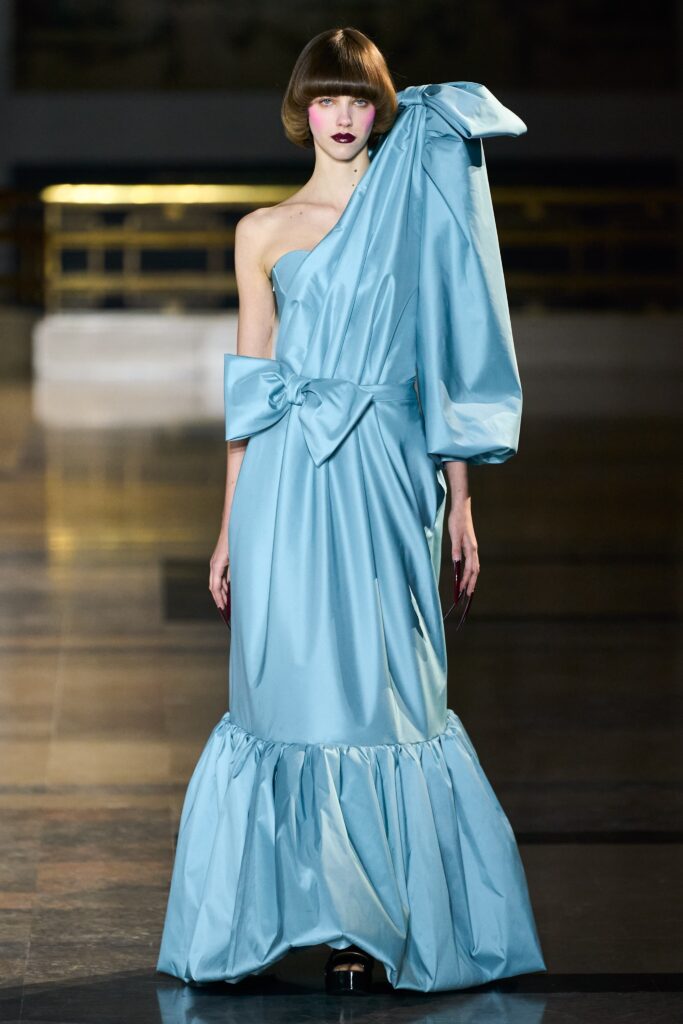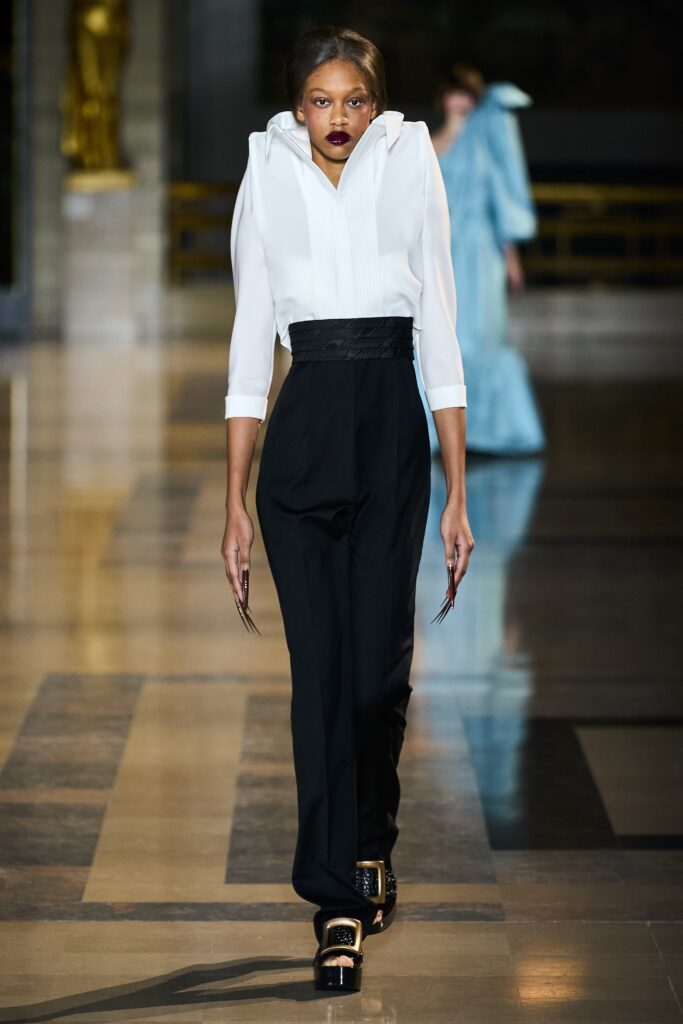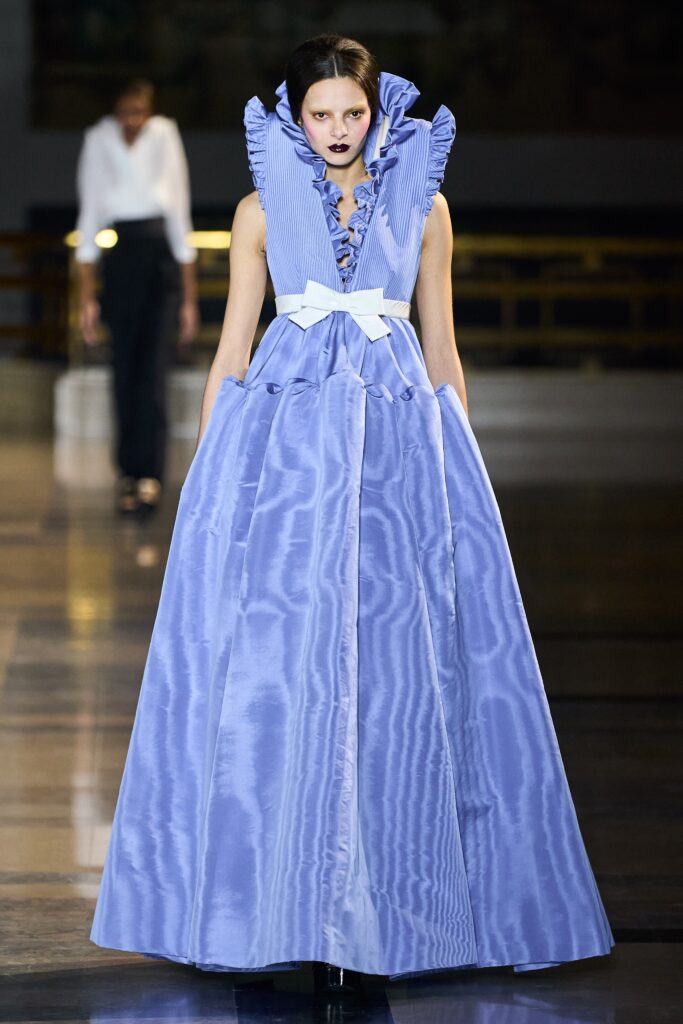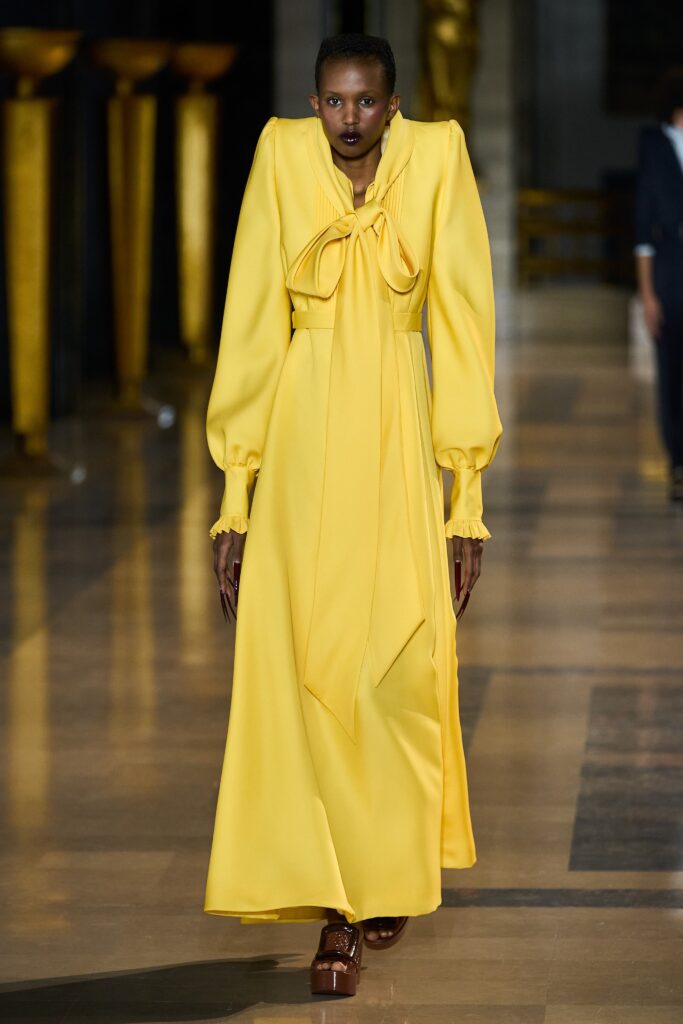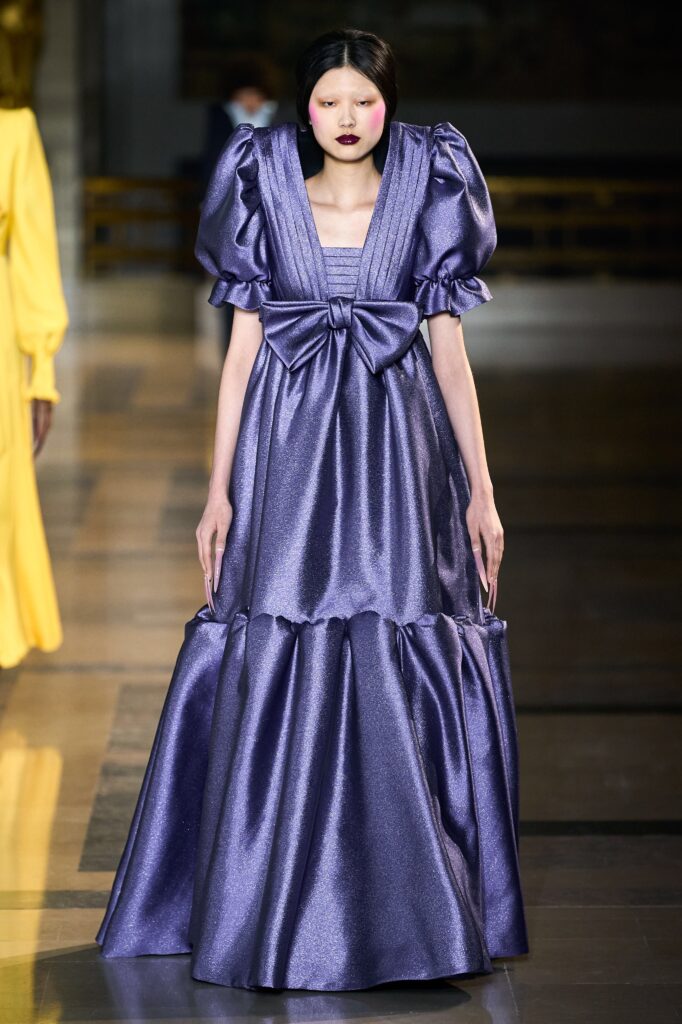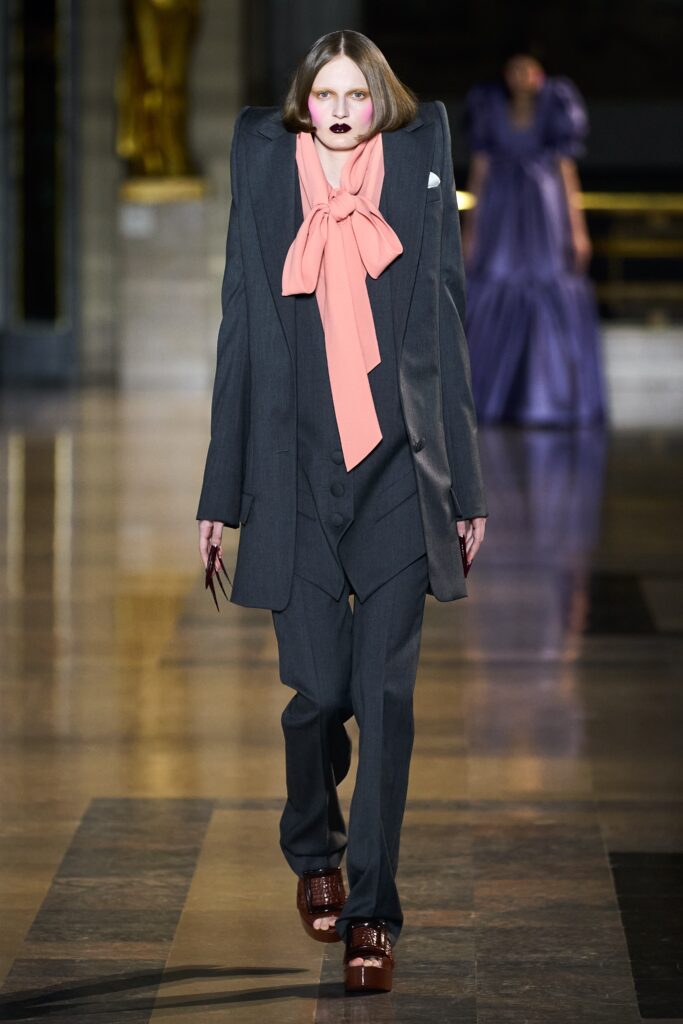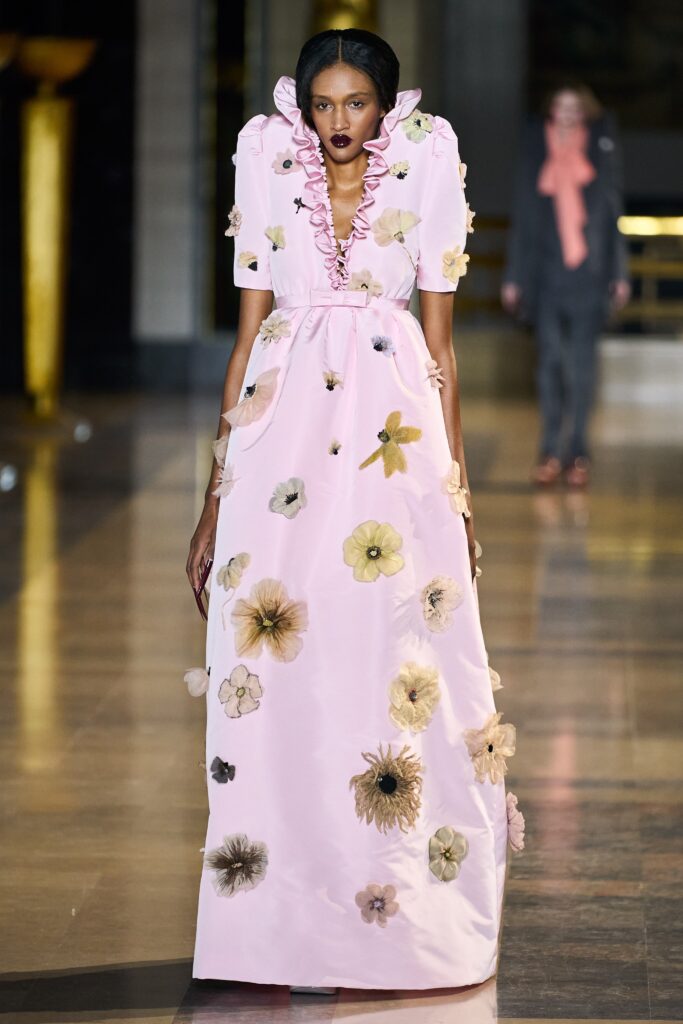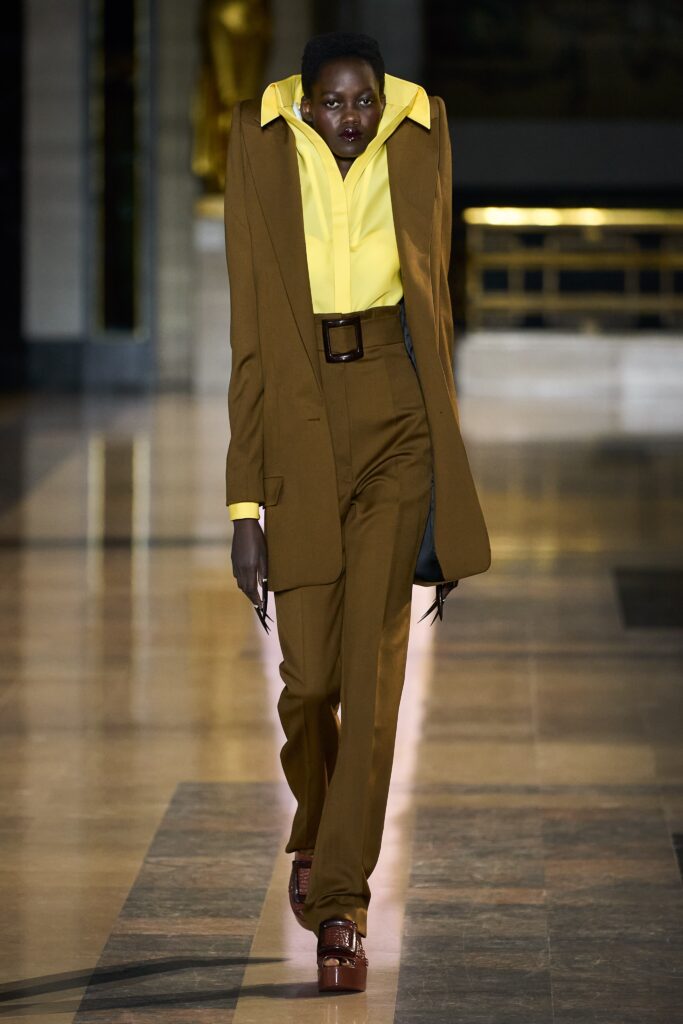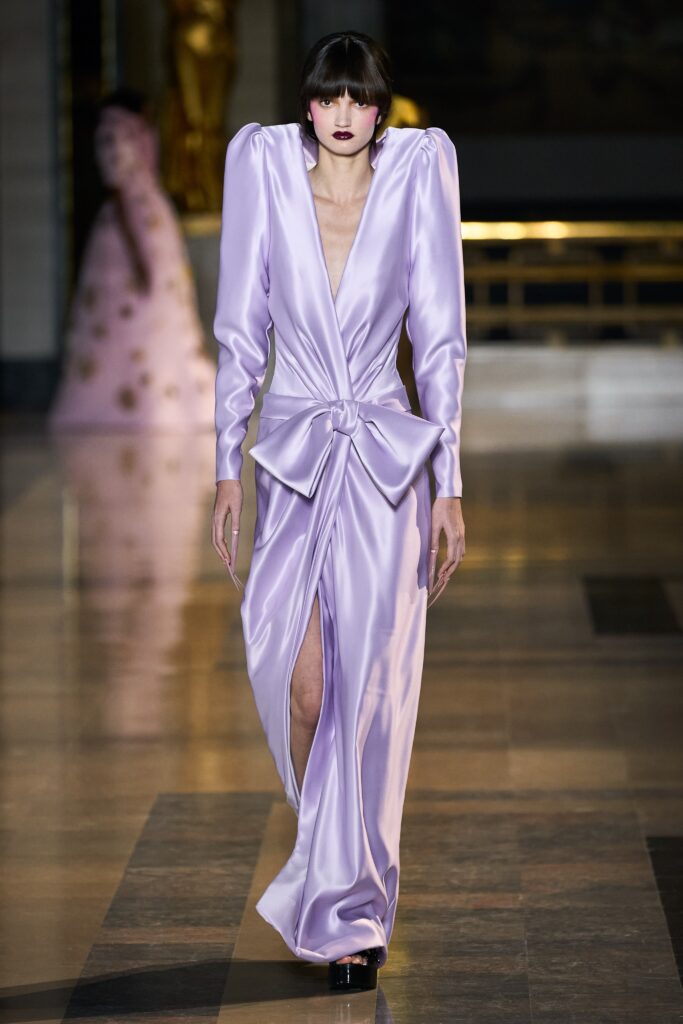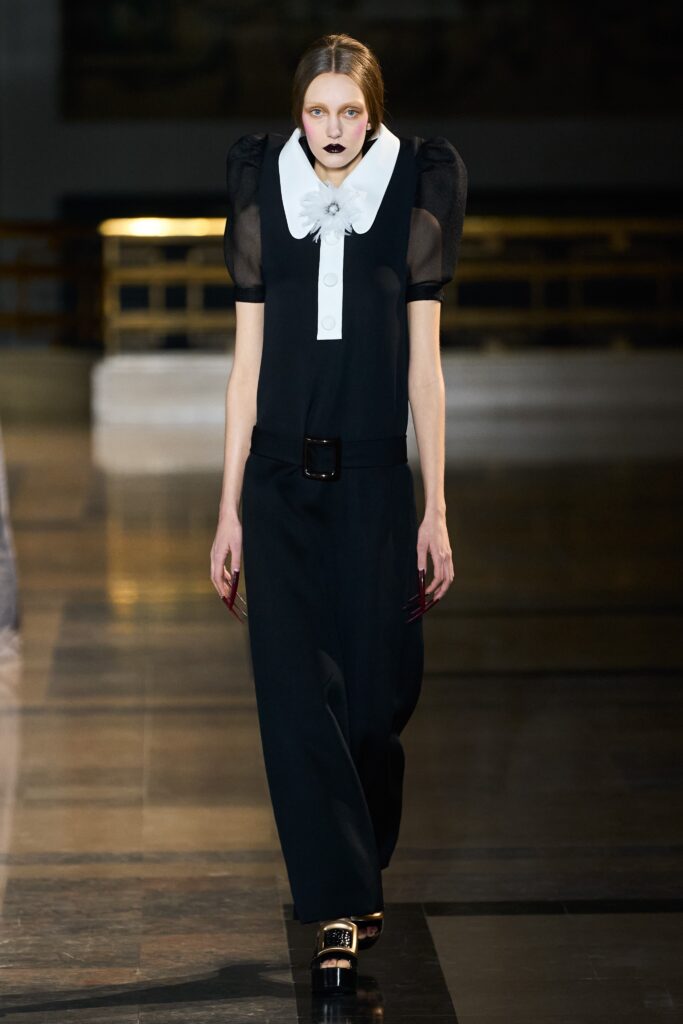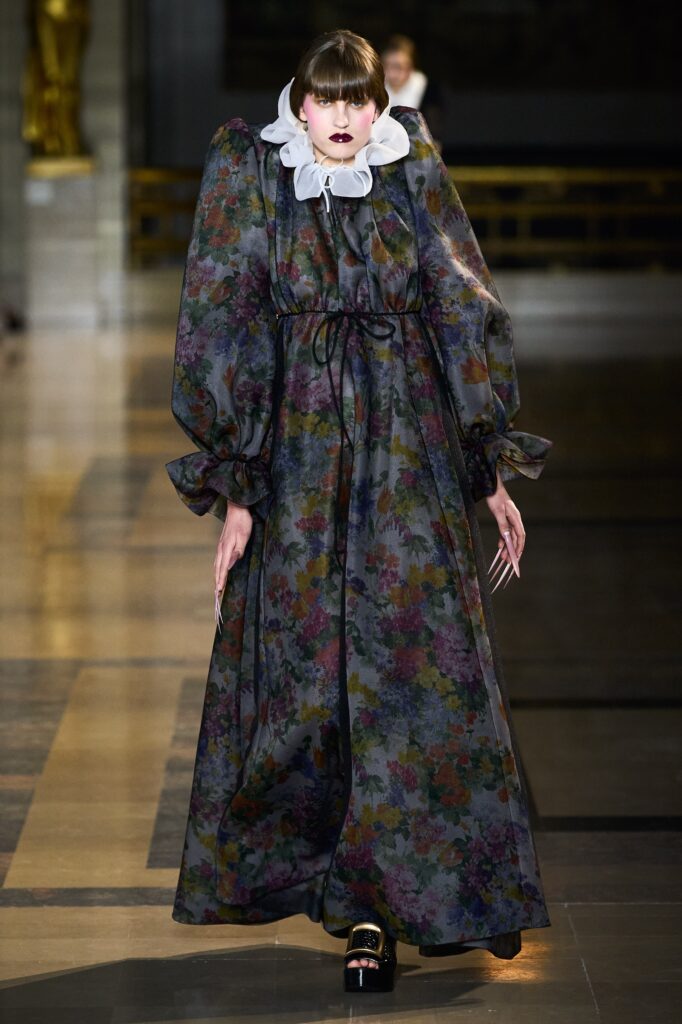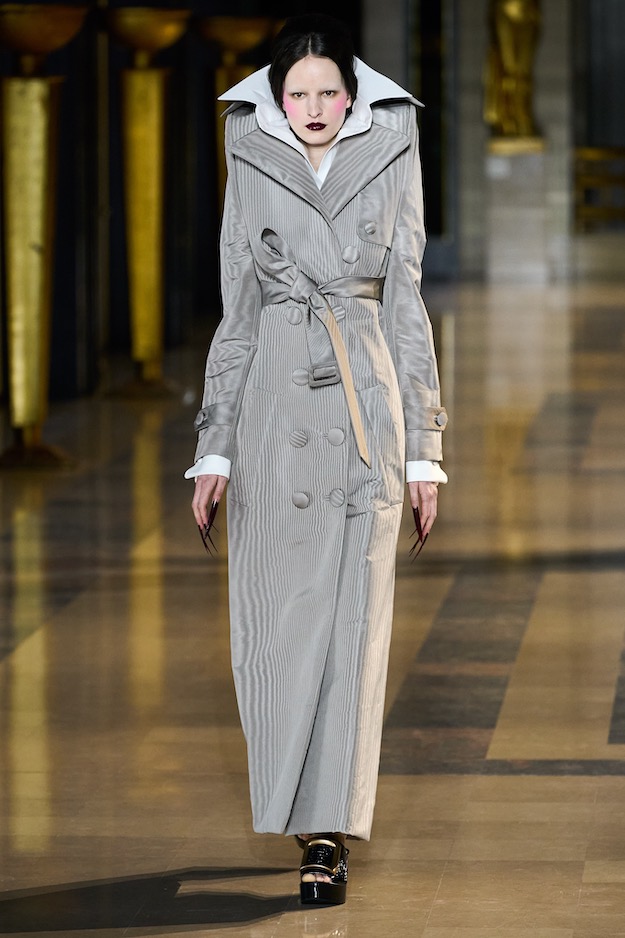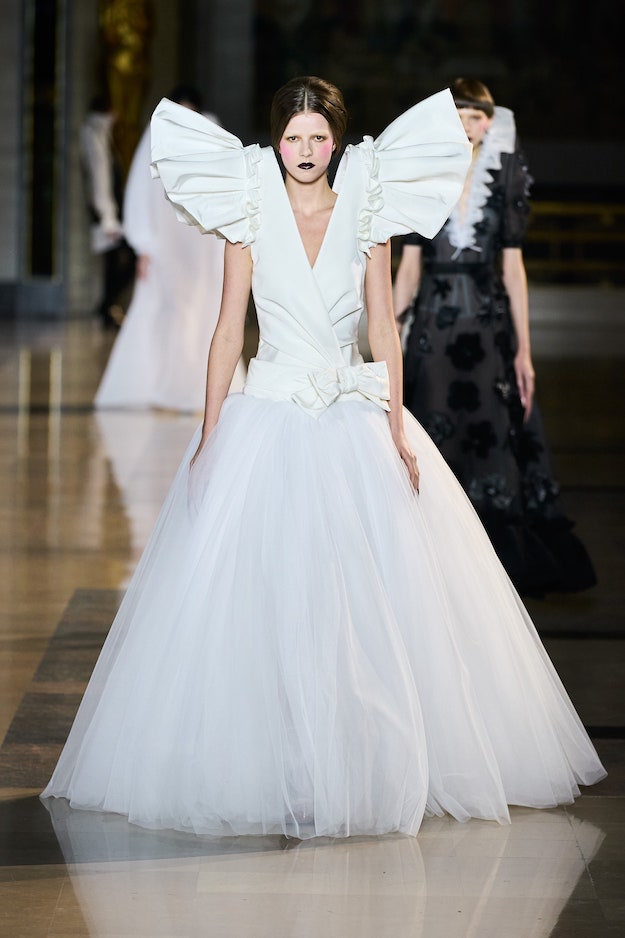 "Your wife has a beautiful neck…." The words are Nosferatu's as quoted on an intertitle in A Symphony of Horror from 1922. And although Viktor & Rolf's collection was inspired by the vampire himself, the wife in question may have benefitted from one of their haute couture creations this season. Constructing on corsets worn under each look, the designers raised the shoulders of their silhouette way above the neck, achieving an effect similar to the iconic image of Dracula as imagined by Old Hollywood.
"Dracula is such a powerful symbol of the fear of change in society. In Old Hollywood movies you have the archetypal scary image of the person in the doorway. This made us think of a shoulder line that we developed almost 30 years ago, in our very, very first collection for the contest in Hyères in 1993," Rolf Snoeren explained. They won that competition with a collection founded in gestures related to the idea of hiding. Through a present-day lens, Snoeren said, "it's a little bit the opposite—going out into the world again but cautiously."
It's been two years since Viktor & Rolf last hit a runway, and their show bore evidence of an appetite for the fun Fashion Week used to deliver. Rather than intellectualizing their pop-cultural reference, they amplified it with horror music, ghoulish makeup, and vampiric fingernails, which they wore for their bow behind a shadow screen, gesticulating like Willem Dafoe's impersonation of Count Orlok in The Shadow of the Vampire. Throw in a vicious Vincent Price laugh, and it would have had all the trimmings of a themed runway show in the 1990s.
The designers' Uncle Fester exercise was formidably executed in everything from trench coats to blazers, tuxedo jackets, shirts, and dresses. When they applied the raised-shoulder effect to a sleeveless top, you could see the skeleton of the corset inside—a nice detail. Creating on an extreme shoulder line also meant extreme garment proportions. Everything was stretched out and elongated to degrees of design expertise that—upon reflection—cut a serious contrast to the lightheartedness of the show.
You couldn't help but wonder what these clothes looked like in their collapsed form, without the corset structures to hold them—none of which were attached to the garments. "You can wear them without," Viktor Horsting said, explaining how the elongated armhole created a slouchy silhouette, which still retained its narrow shape. Sounds perfectly weird. Maybe it's an idea for a sequel.
Vogue.com